Back in 2017, we converted our 2007 Mercedes Sprinter into a camper van to travel in full time. At that time, we were on a very tight budget and we didn't know if traveling full time was really for us. We spent around $40,000 (including the cost of the van) to build out our camper van.
Fast forward to 2021, and things have changed quite a bit. We sold our Sprinter camper van and wanted to build a new camper van. This van would serve as both a personal camper for Nate and I, and also as a show vehicle to take to expos for EXPLORIST.life. So, we got on the looooong wait list for a 2021 Ford Transit 3500 AWD and started planning our camper van build.
For me, the most important part of planning a camper van conversion is the cost. We knew we would be spending quite a bit more money on this camper van, and there was a lot we learned from our 4 years on the road in our Sprinter. In this post, I'll break down the total camper van conversion cost, complete with a detailed list of expenses and steps.
This build was indeed quite expensive, so I've also included some alternative less expensive options below. Some of the things we did in this van were not necessary or we did for testing purposes and ultimately decided they weren't worth it *cough cough… Lizard Skin…* Disclaimer: I cannot vouch for the cheaper alternatives personally, as we haven't actually tested most of them.
Camper Van Conversion Costs:
Sound Control: $2,515.62
Sound control is our first step in a camper van conversion. In this van, we chose to use Lizard Skin Sound Control and Ceramic Insulation. The Lizard Skin Sound Control worked great and provided a full coverage throughout the van. The Ceramic Insulation added a layer of protection from heat loss/gain, which was an added benefit.
However, looking at the cost of Lizard Skin and the overall benefit, I probably wouldn't do this again at all. It was a pain in the butt to apply, it made a mess, and I'm still trying to scrub Lizard Skin off my desk over a year later.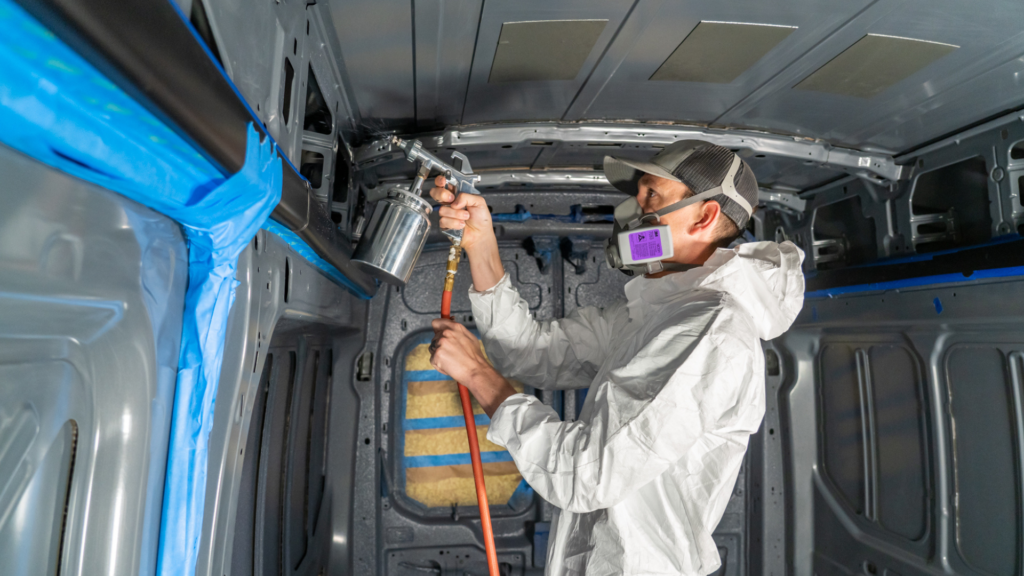 Tern Overland Arctic Tern Windows – $2,305.86
Installing additional windows in the camper van was important to me for some added natural light, which is something we didn't have in our Sprinter. Since we live in the mountains of Colorado and are often in cold environments in the winter, we chose Tern Overland Arctic Tern Windows as they are double-paned and great for a 4-season camper.
*Use code Exploristlife10 for 10% off your order with Tern Overland*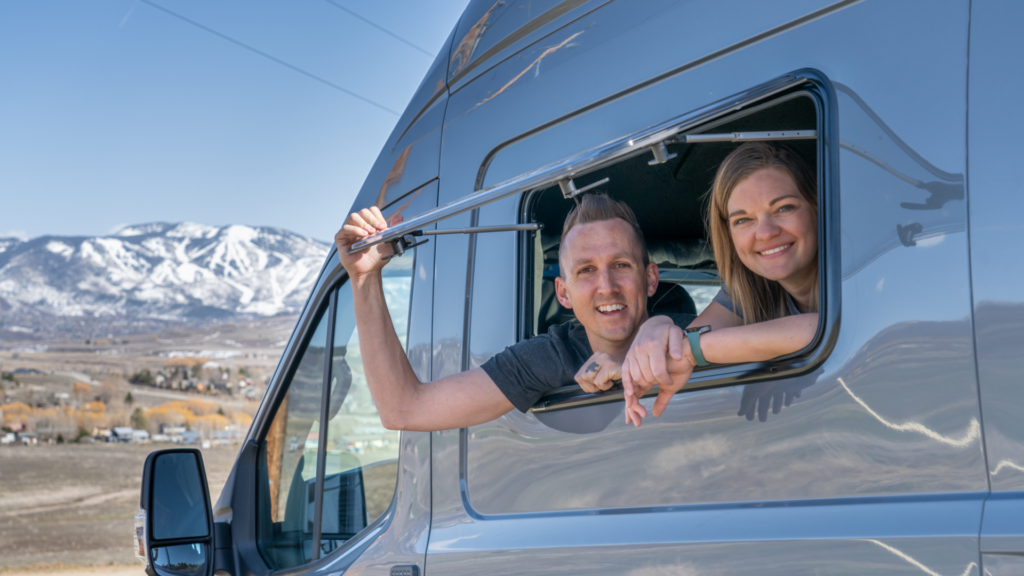 Satsang Vanworks Custom Window Jambs – $1,311.00
Since the Tern Overland windows are designed to be installed directly against the metal and doesn't account for insulation and walls that typically come in a camper van conversion, we needed a way to space out the window from the walls. Satsang Vanworks has created a perfect, easy solution to this with their custom window jambs. They look great and can be covered in whatever interior material you choose. These made this step much easier.
*Use code Explorist.life for 5% off your order*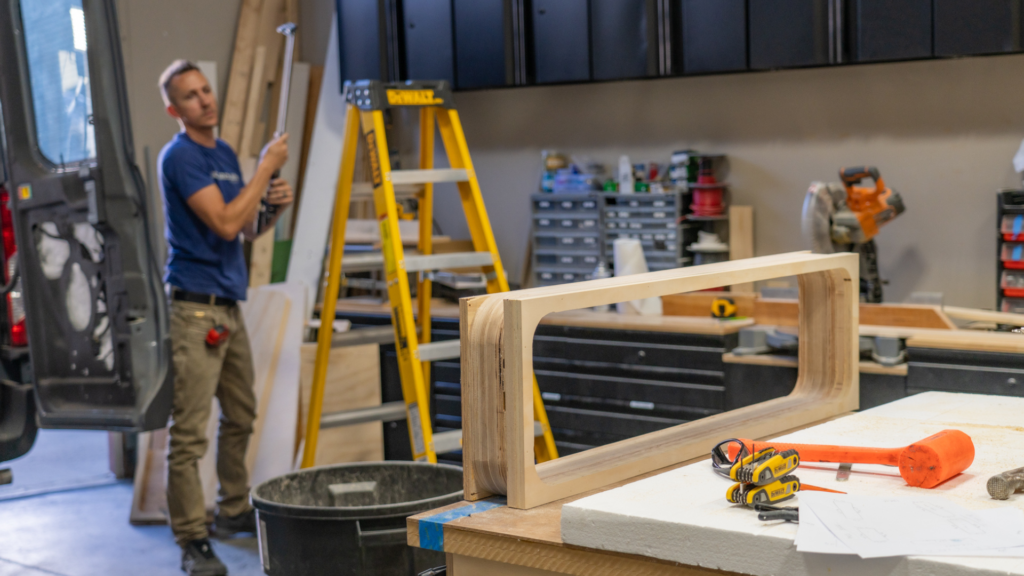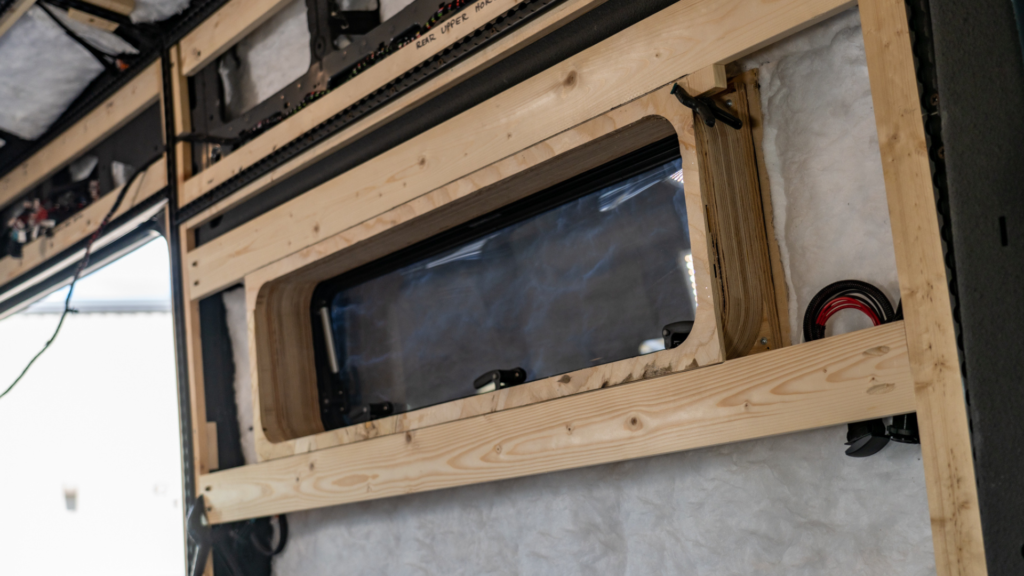 Branch Circuit Wiring – $269.95
For our branch circuit wiring, we used our own EXPLORIST.life branch circuit wiring kits to wire our USB outlets, 12V outlets, and 120V outlets. In this van, we used three kits of 20′ USB/12V Outlet wiring kits, six 12V Outlets, and six USB Outlets.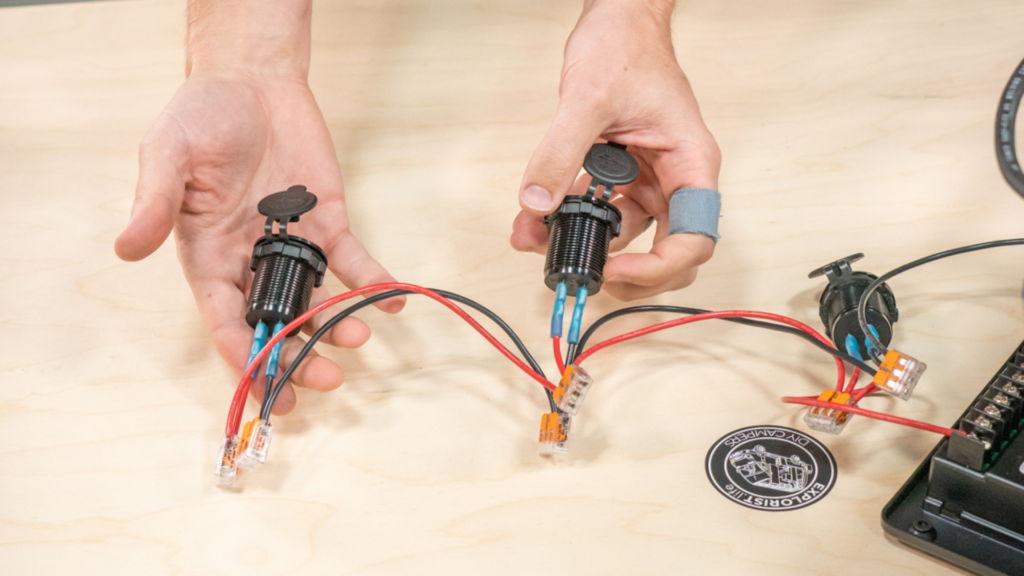 Lighting – $108.99
We used puck lights on the ceiling and LED strip lighting under the cabinets for some indirect lighting.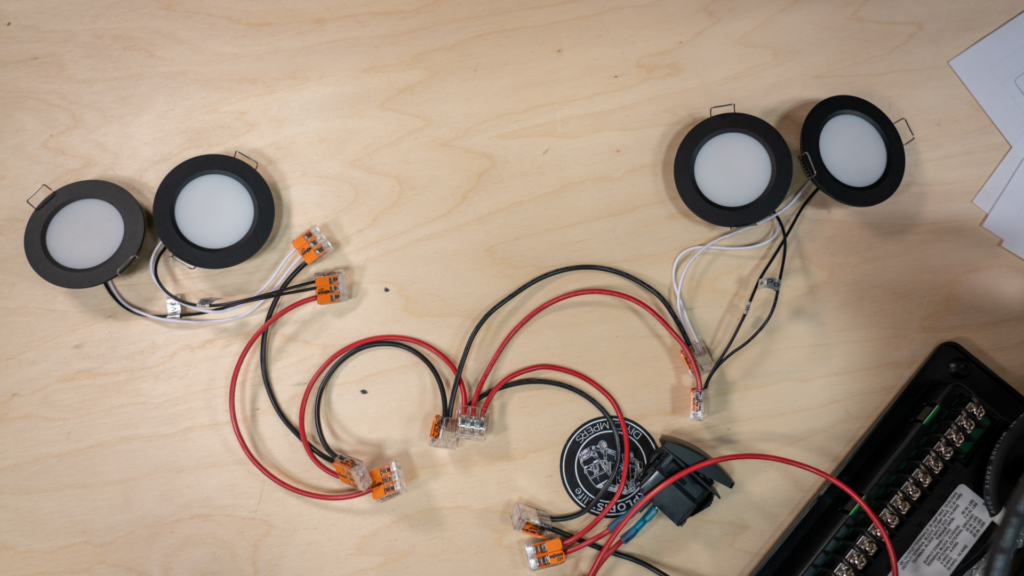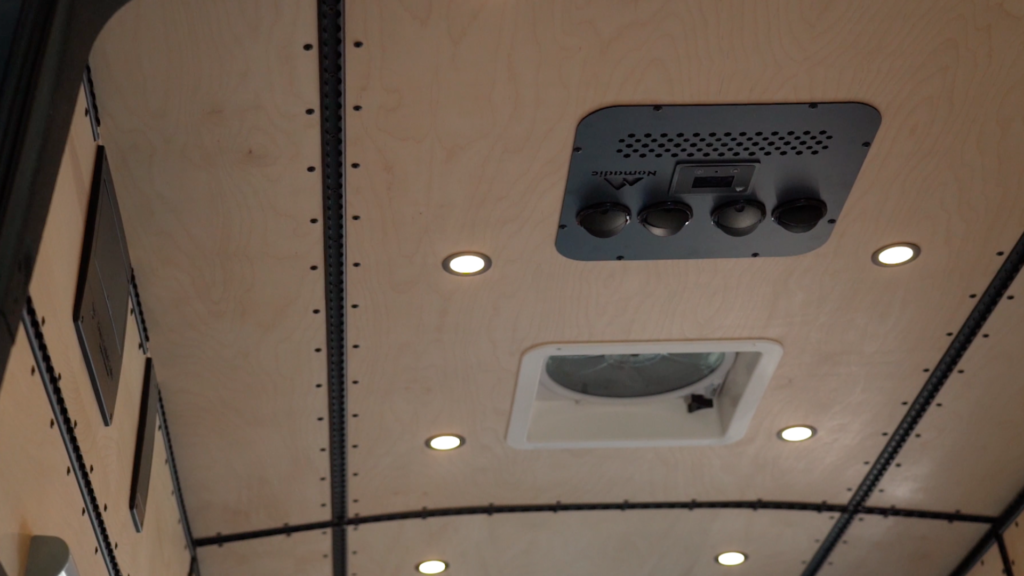 Outlets/Switches $369.97
We put various outlets around the van (both 12V and 120V) for easy access. We also added some sleek switches to our control panel for all of the lights. Lastly, we added a dimmer switch for the overhead lighting.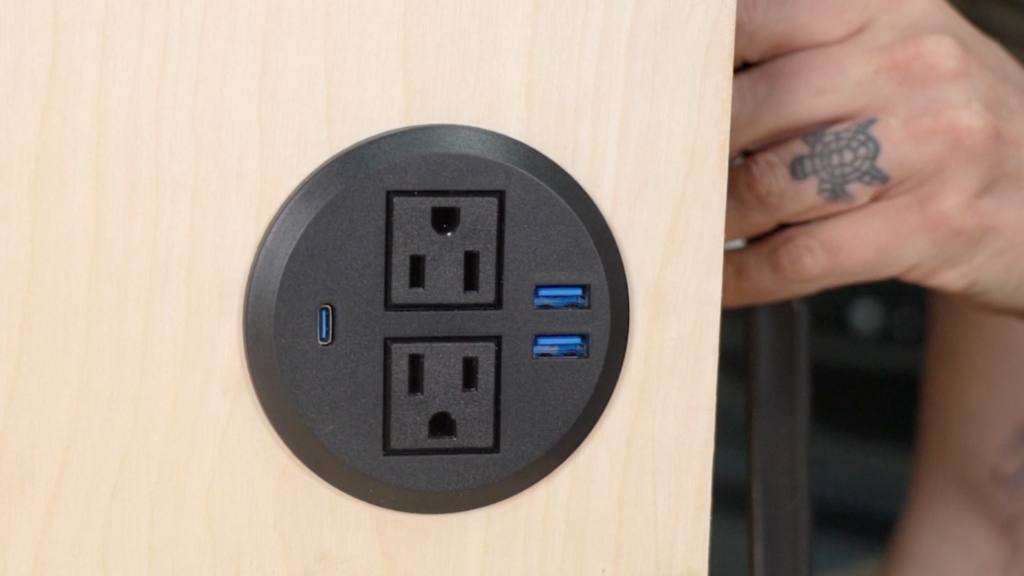 Nomadic 24V Air Conditioner – $4,989.00
To make sure we are comfortable in all weather conditions, we added a Nomadic 24V Air Conditioner for those hotter days. This is a luxury we did not have in our previous Sprinter van, and we're excited to have the ability to stay cool when we go on those rare warm weather trips. Our team has also appreciated the Air Conditioner at summer expos and trade shows!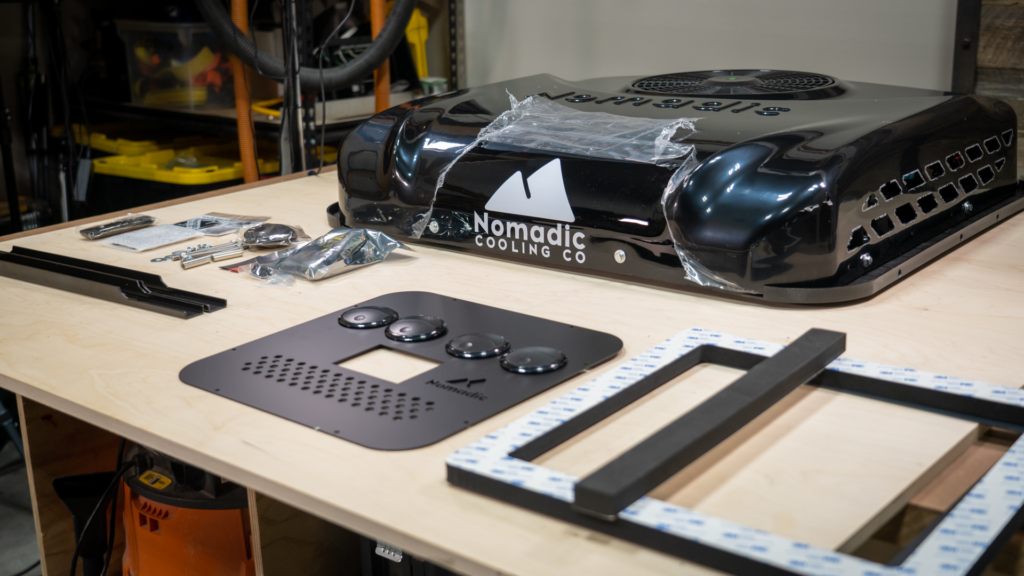 Maxxair Fan – $543.29
When it's not quite hot enough to need the Air Conditioner, but we still want some air flow, a Maxxair Fan is the way to go. We opted for both the Air Conditioner and the Maxxair Fan so we could have the option of running just the fan when we didn't need full AC, but so far we haven't actually used the Maxxair fan much. The Nomadic AC does have a fan mode as well, so in hindsight, perhaps this was redundant.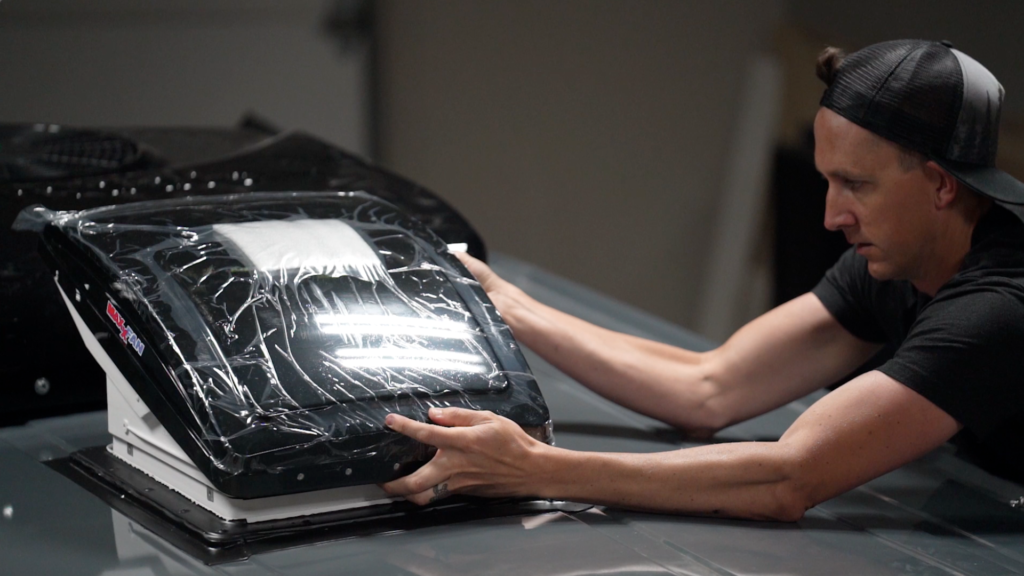 Unaka Roof Rack – $1,695.00
We worked directly with Unaka Gear Co to design this low profile roof rack that has cross-bars exactly where we need them for mounting 55W Rich Solar Panels around the Maxxair Fan and 35W Rich Solar Panels around the Nomadic Air Conditioner. This allowed us to optimize our solar on the roof while still having a sleek looking roof rack.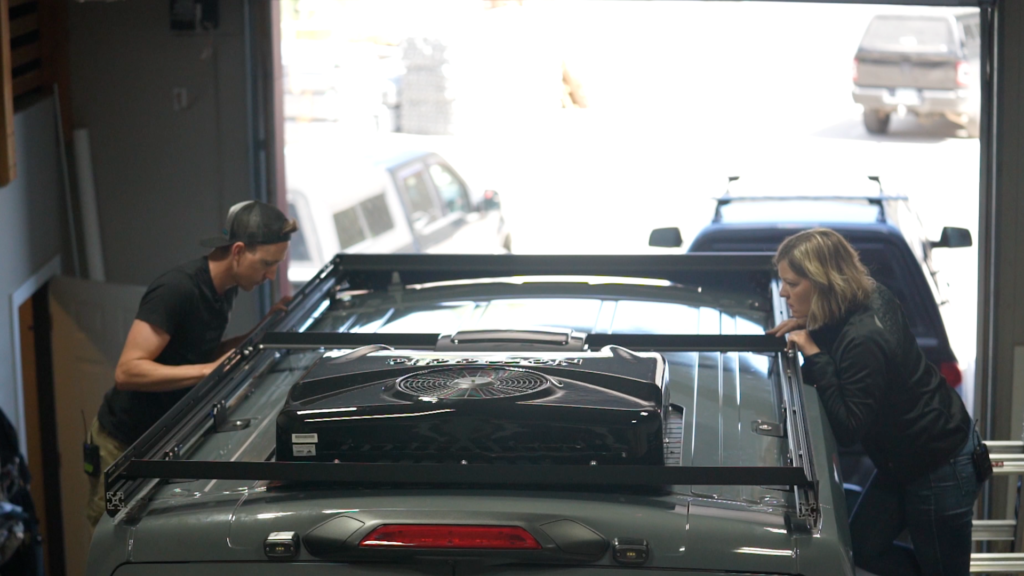 Weboost – $550.33
If you work from the road like we do, you know that having cell signal is imperative. While a WeBoost won't guarantee cell signal everywhere, it does indeed help a ton to boost a weak signal in more remote areas.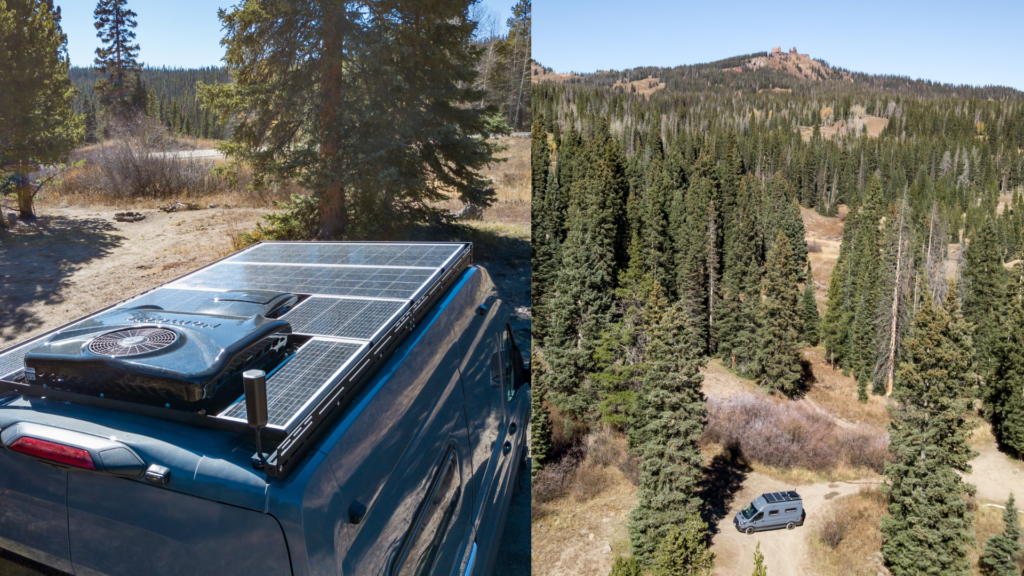 Flooring – $2,450.40
We tested several different flooring types through our very scientific method of scratching it with a screwdriver and then pouring Mule Sauce hot sauce on them to see which one cleaned up the easiest and best. The Chilewich tweed flooring stood up the best to both tests and it looks great, so that's what we went with.
As our subfloor, we used R Sheathing, which allowed us some added structure as well as insulation on the floor. We also installed L-Track in 4 locations along the floor to mount our lower cabinets, bikes, and anything else we may want to secure.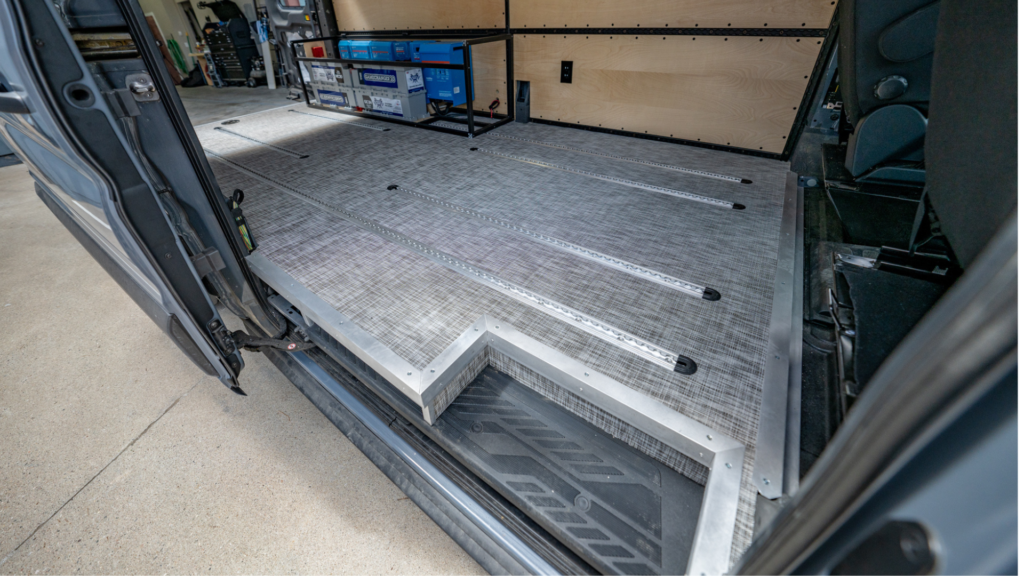 Insulation – $820.00
In addition to the Lizard Skin ceramic coating, we insulated the entire van with Thinsulate insulation. Insulation is important for temperature control, and to get the full effect, you want to get full coverage throughout the camper. So, we stuffed Thinsulate into every nook and cranny we could. It was time consuming, but after camping in hot weather and cold weather in this campervan, we can attest that it was indeed worth the extra effort.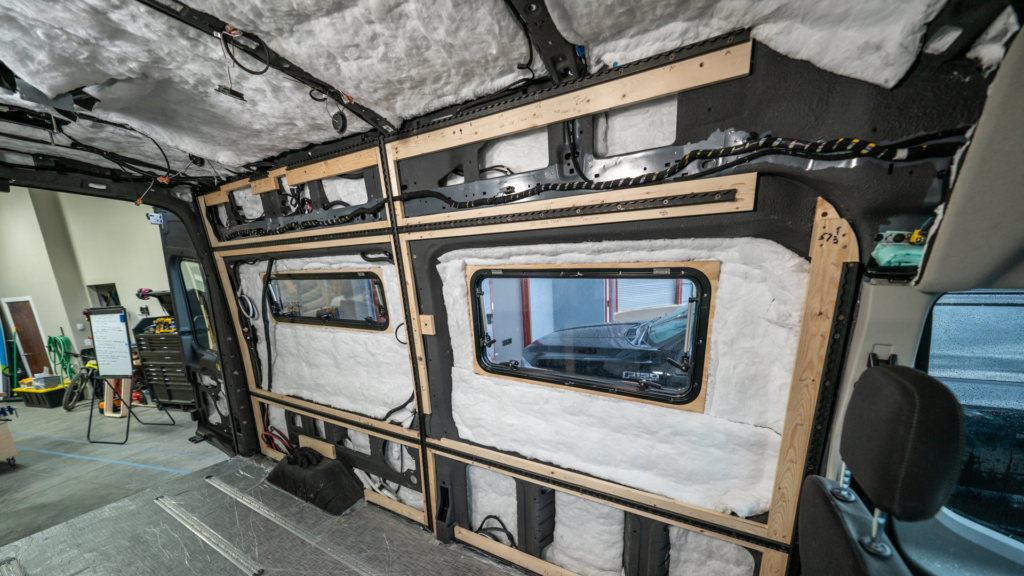 Walls – $4,484.58
We did a full video covering the cost of our walls versus a pre-made kit like Adventure Wagon's wall kit. Our walls are birch plywood with black L-Track framing, secured to the walls of the van with plusnuts.
While these did cost quite a bit, we ended up with beautiful walls with tons of L-Track to secure all sorts of things, and it was significantly less expensive than a pre-made wall kit.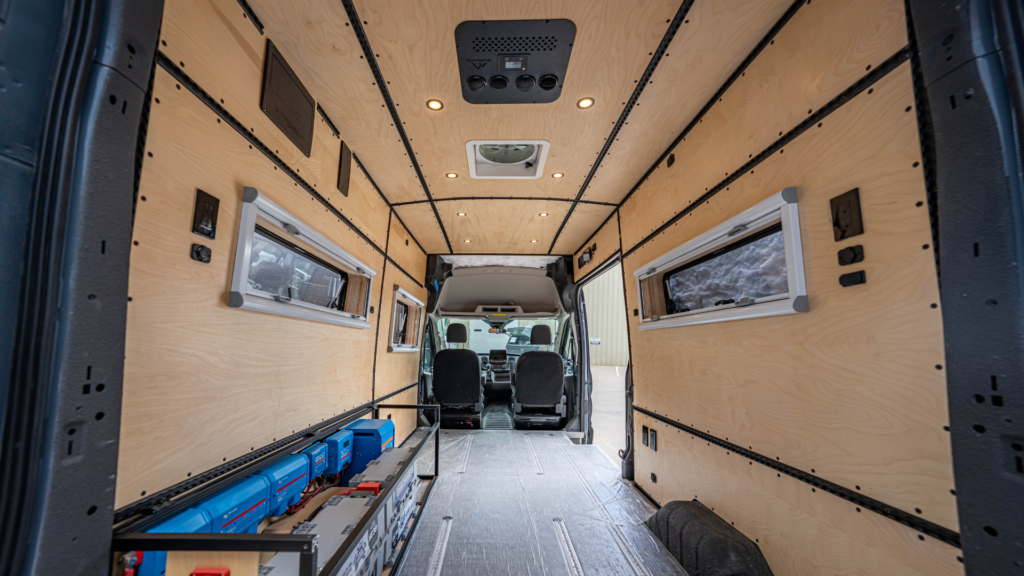 Swivel Seats – $699.98
Swivel seats allow for us to use the driver and passenger seats of the Transit in the living space of the camper van. This means less space needed for additional seats.
*Use code EXPLORISTLIFE for 5% off at theswivelshop.com*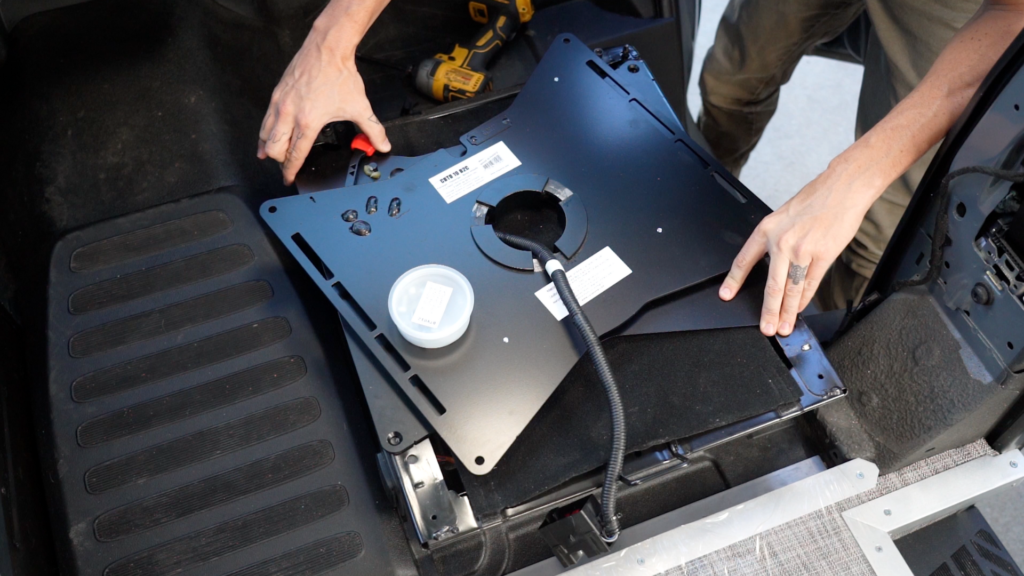 Electrical System – $12,060.0
The electrical system is definitely not a place where we were going to cut corners. Our electrical system is a high-powered system with 540Ah of Battle Born Lithium Batteries, 3000kVa of inverting power, 30A Shore power connection, dual Victron Orion 12|24-15A Alternator chargers, 580W of solar on the roof, and the ability to add a ground deploy solar array of up to 1700W. We went with a 24V system for this installation so that we could use smaller wire for the component connections.
You can see our exact electrical system in our shop HERE.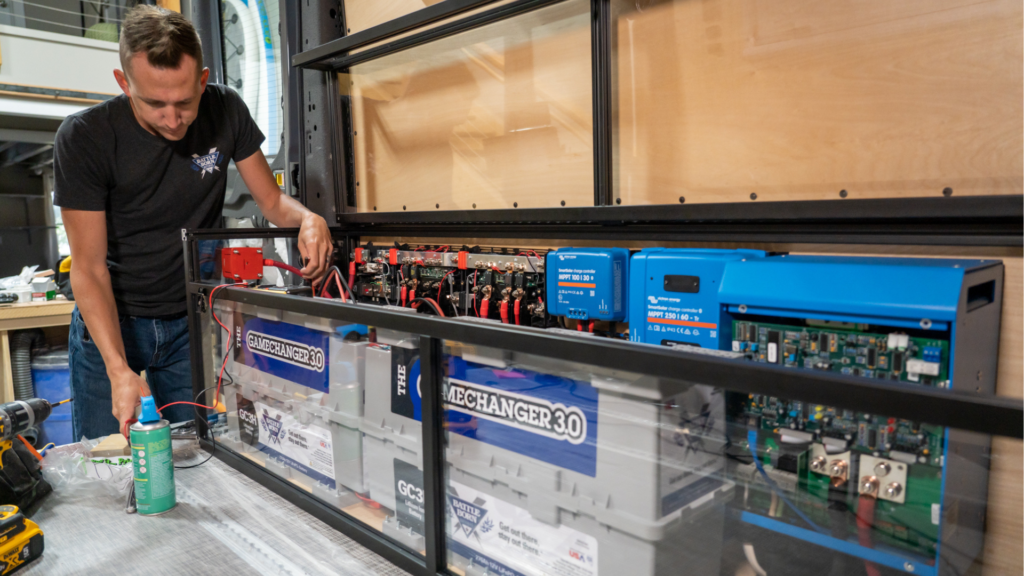 Plumbing – $1,911.48
We installed a 20 gallon wheel well water tank from Titan Vans, as well as a water heater and a water pump to deliver water to the sink and outdoor shower.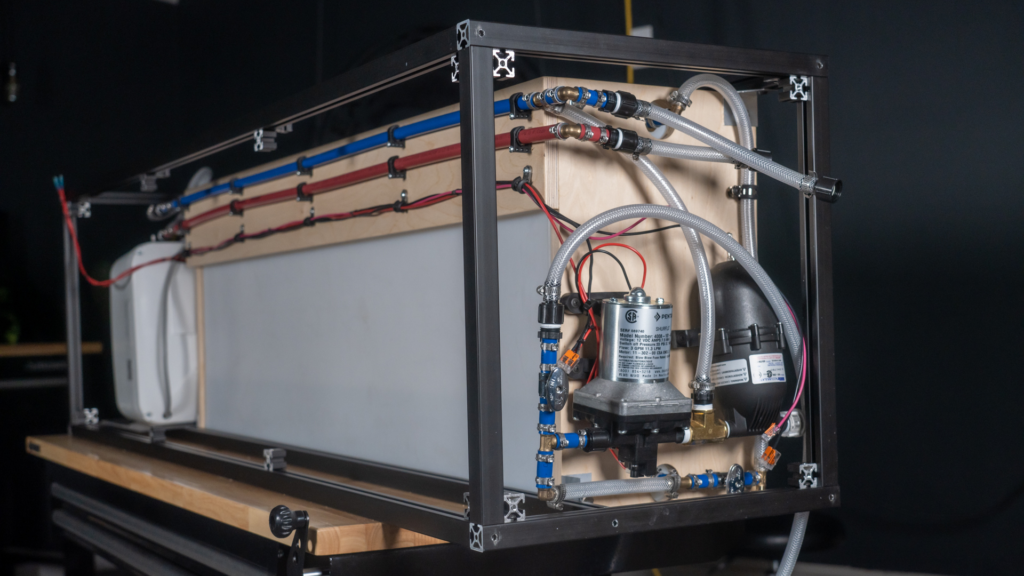 Composting Toilet – $780.00
Contrary to popular belief, composting toilets do not smell bad. We once again installed a composting toilet in this campervan, just as we did in our Sprinter van. The composting toilet is a great alternative to cassette toilets, as you don't have to be carrying around sewage in your van.
I'm going to skip alternatives to toilets, because… you do you there. There are too many options here.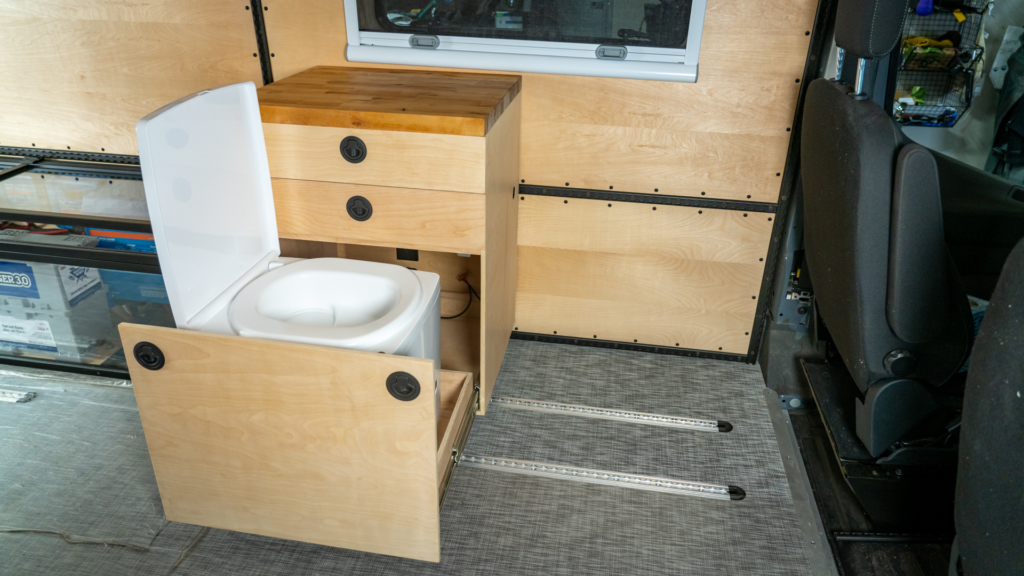 Cabinets – $2,518.49
We have essentially 4 "modules" of cabinets in this campervan, all mounted to the walls and floors with L-track mounts. The upper cabinets are all open faced, and we use storage bins to store our things. This makes it super easy to load and unload the camper, as we can just pull the bins out and take them inside the house.
The kitchen module has a drawer for our utensils, a drawer for our trash bin, a drawer for our dishes, and then a cabinet that is accessible from the outside of the van for easy access to the gray water tank.
Our storage module is designed to carry all our camera gear and Peak Design packing cubes for miscellaneous items. This is a great way to organize all of our gear for different videography and photography trips.
Our toilet module is just that – a cabinet to store the toilet. The toilet pulls out for use and then stores nicely away. There are two storage drawers above the toilet for toiletries.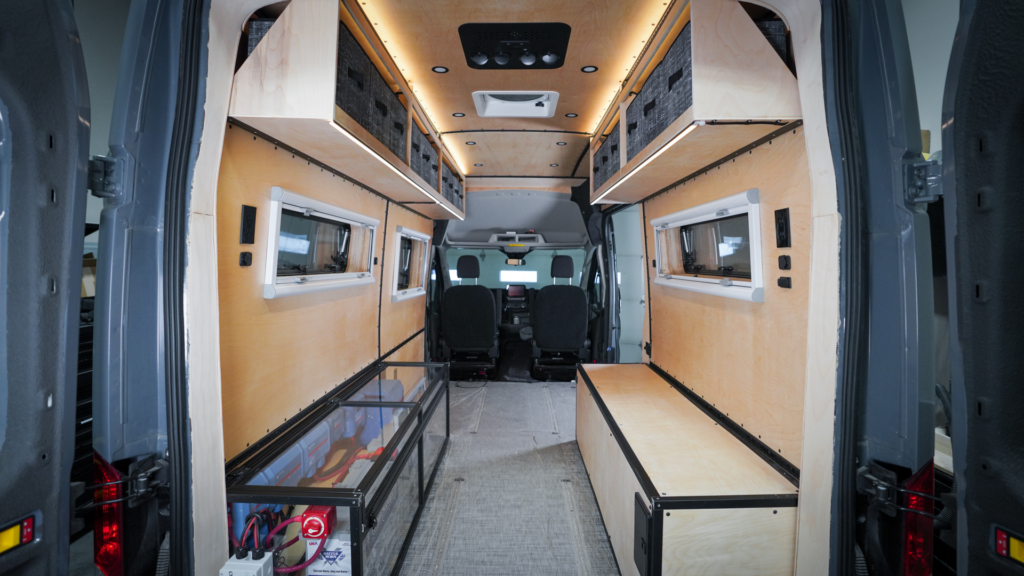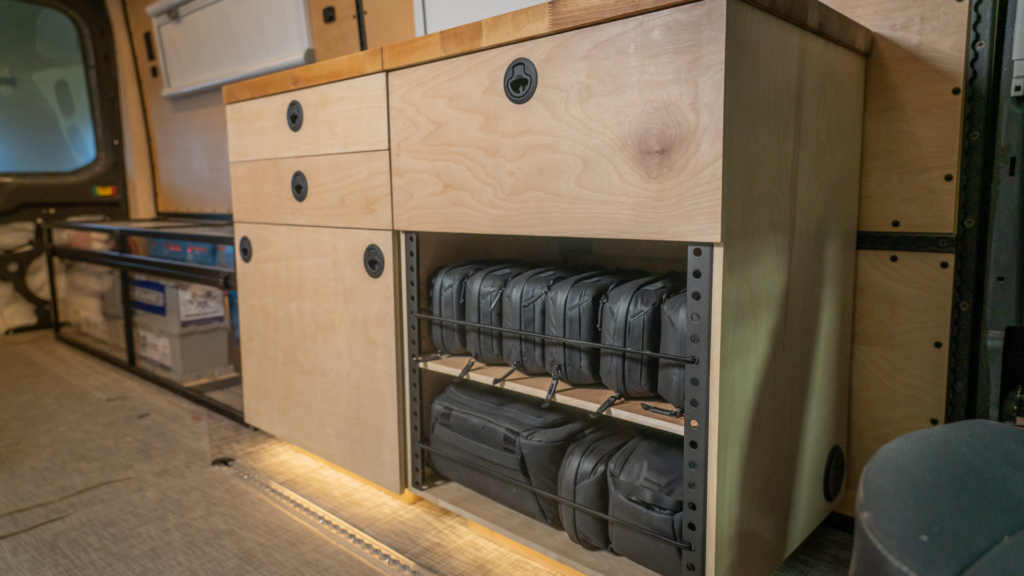 Kitchen – $2,691.41
In addition to the storage in the kitchen cabinet, this module has an induction cooktop, a sink, a fridge, a gray water tank, and a wireless tank sensor to monitor tank levels.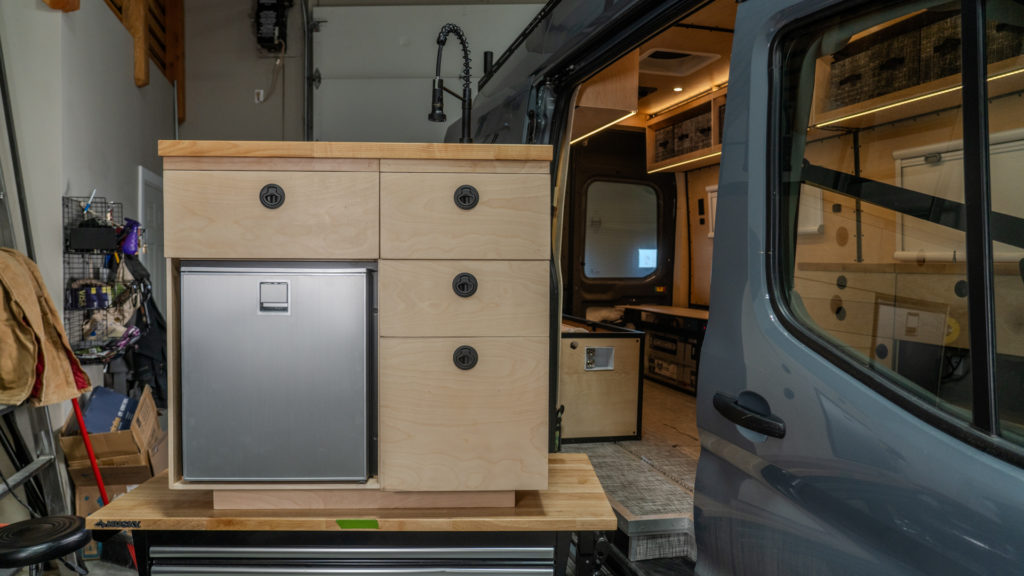 Bed Platform – $1,705.71
We opted for a pretty simple bed platform in this build, using unistrut for the framing and square tubing for the headboard frame. Since our bed is slightly narrower than the width of the van, we added a slim hidden table on either side of the bed where we can put our phones, coffee cups, etc while we're in bed.
Our mattress came from Tochta, who specializes in specialty customizable mattresses. While our mattress ended up being a typical full-size mattress, we still wanted the flexibility that came with the Tochta mattresses. In our Sprinter van, we simply ordered a mattress off of Amazon, and, while it was comfortable enough to sleep on, it was a pain in the butt to maneuver for cleaning and making the bed.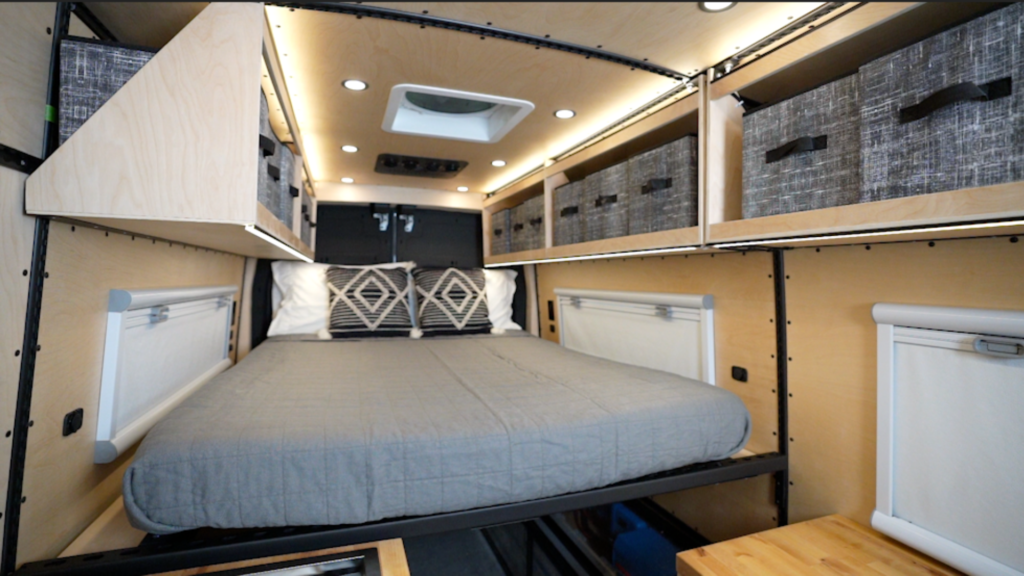 Bug Screens – $948.00
We installed Bug Wall Bug Screens both on the back doors and the side door of the Transit to keep insects out while allowing fresh air in. The back Bug Wall also has a window option and insulated "garage" covers so we can keep the doors open in inclement weather, if we wanted to do that.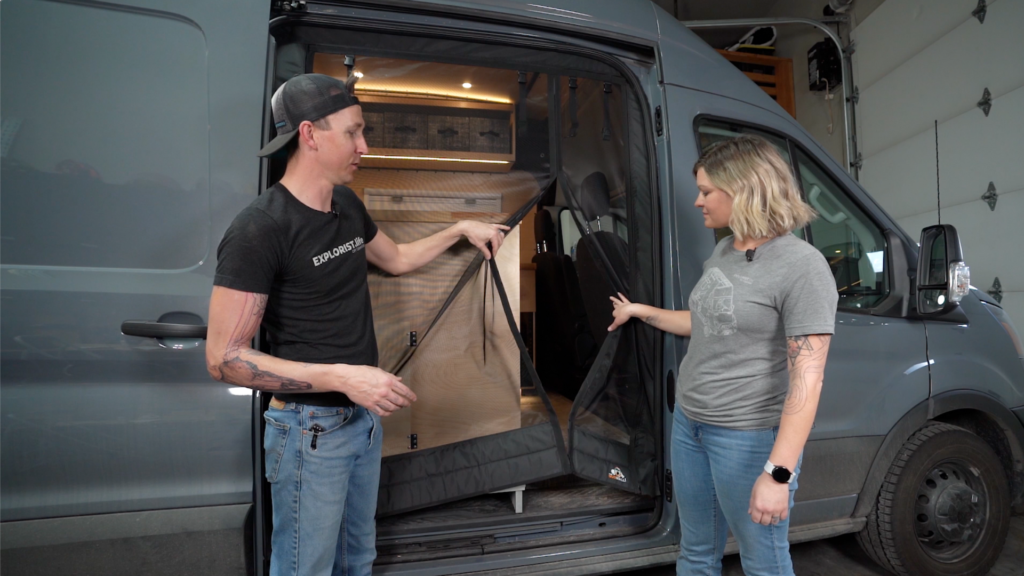 Tank Sensors – $138.13
This is something I SO MUCH wish we had in our first camper van. Tank sensors help monitor water levels in your campervan to let you know if your gray water is almost full, if your fresh water is almost empty, and even the temperature in the van. We have alerts set up for each of these so we know exactly when we need to make plans to stop and empty/fill tanks or to make sure the water tanks don't freeze.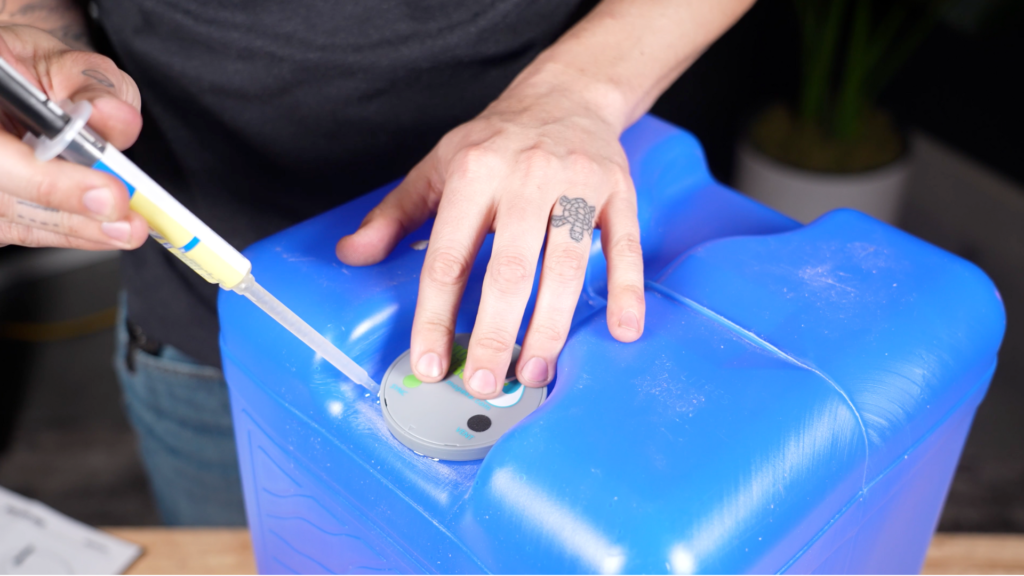 Lift Kit – $3,975.48
Living in the mountains in northeastern Colorado, ground clearance is a major concern. We added a Van Compass Stage 4 Topo 2.0 System, which includes adjustable rear Falcon 3.3 SP2 shocks, with 2.0″ of lift for improved ground clearance. The Topo Front Lift kit combines a precision engineered 0.75″ lift camber correction plate with a tuned coil spring, while the rear lift is accomplished by a 5 leaf mini spring pack.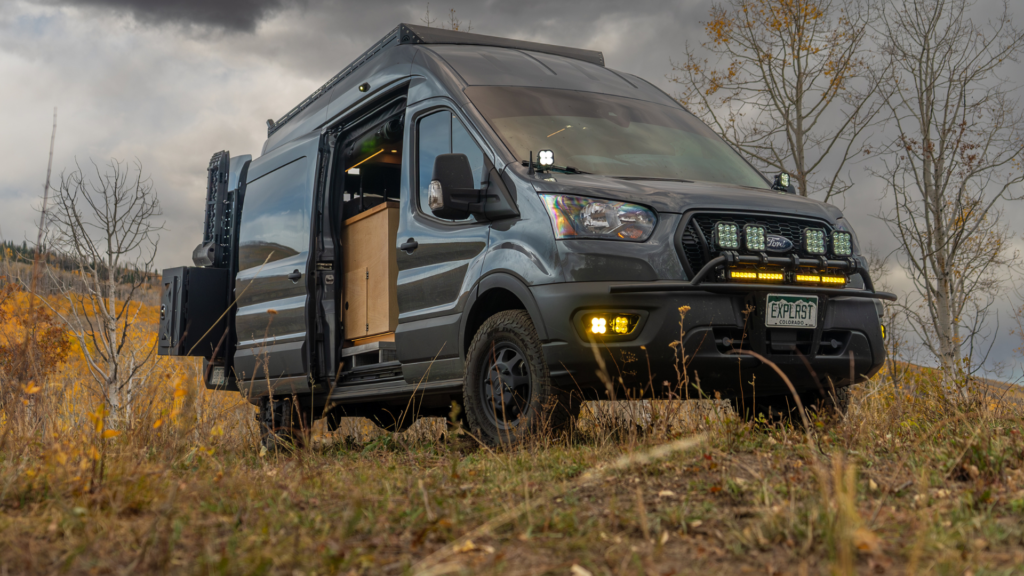 Wheels/Tires – $2,419.86
With the lift installed, we also needed to upgrade those dinky stock wheels and tires to add some additional ground clearance and all-terrain performance. The tires we added are Falken Wildpeak A/Ts in size 245/75/16 on Method Wheels.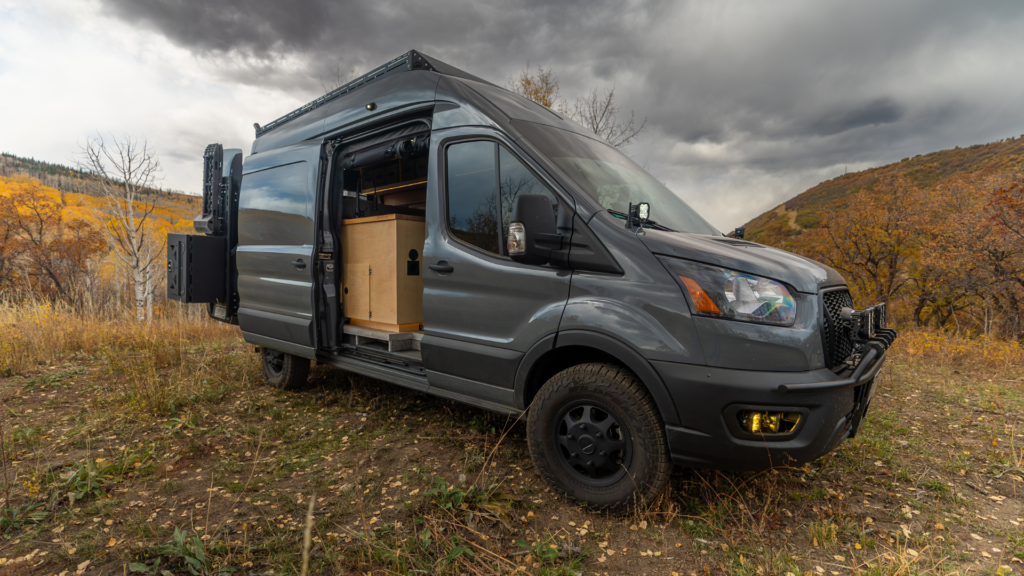 Nudge Bar – $895.00
We installed the Flatline Van Co nudge bar so that we could attach all of our auxiliary lights, as well as provide some additional protection to the front of the van.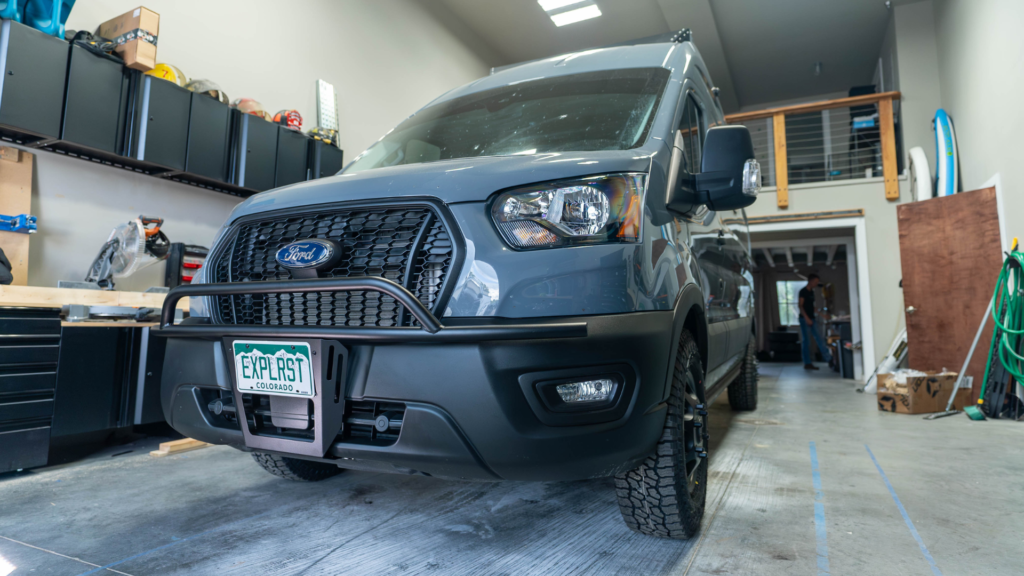 Exterior Lighting – $2,458.40
While it may seem overkill, we added a TON of lights to the exterior of our van. Living in the mountains of Colorado, we need to be able to see well in snow, rain, and fog, and be able to light up ditches and back roads as deer, elk, bears, and other wildlife are often lurking on the road at night. With the lighting options we have installed, we have several options for lighting up the road for nighttime driving. We installed: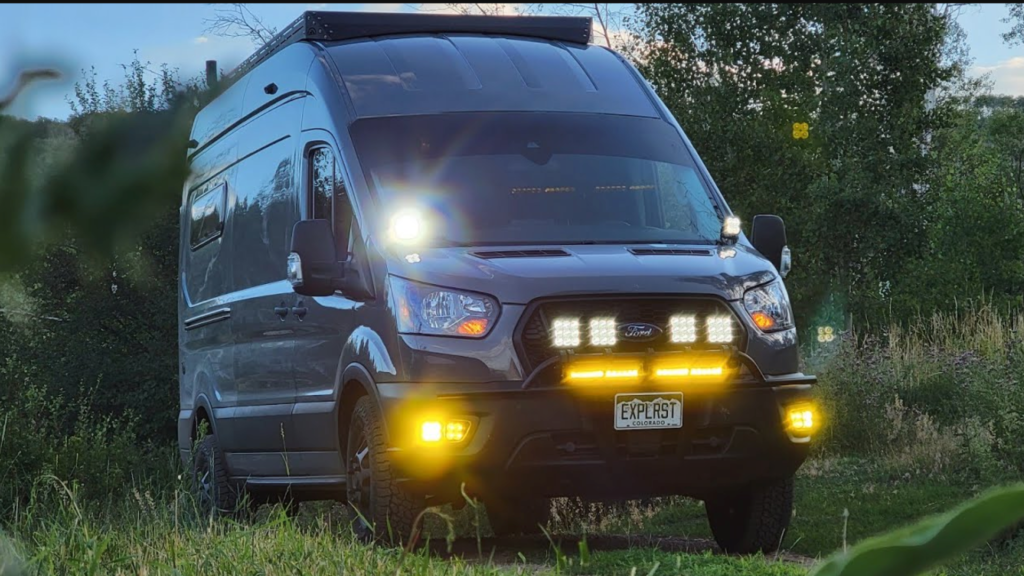 Garmin PowerSwitch – $415.59
To control all of that lighting without having to toggle a bunch of switches all the time, we installed the Garmin PowerSwitch. This allows us to control the lights via the factory touchscreen in the Ford Transit, as well as through our phones via bluetooth. The Garmin PowerSwitch also enabled us to wire the ditch lights to our high beams so that we can turn them off and on easily while driving, so as not to blind other drivers. This also allows the Ford high beam sensor to turn off our ditch lights when it senses other cars approaching.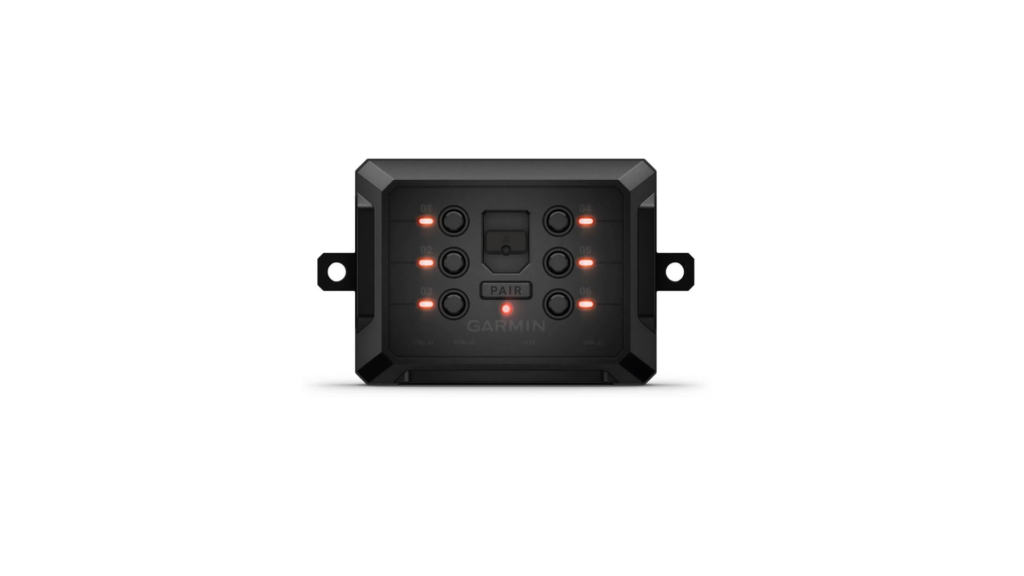 Exterior Storage – $2,569.65
Storage solutions outside the van are essential for gear and equipment like shore power cords, tools, water hoses, etc. To accomplish this, we installed a Ford Transit Rear Door Platform from Flatline Van Co as well as an aluminum cargo and storage box from Backwoods Adventure Mods.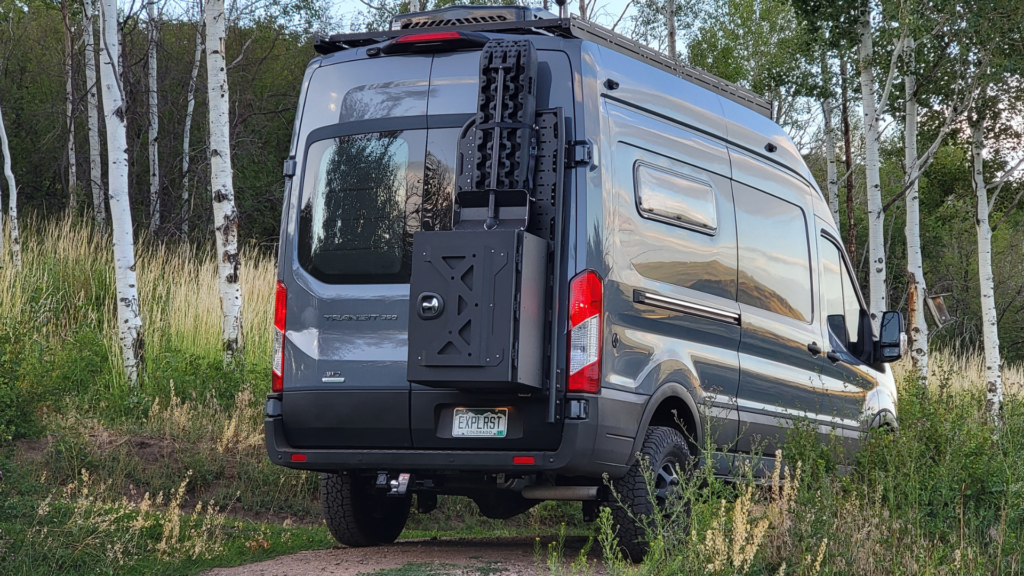 VanEssential Window Covers – $498.57
After *attempting* to make our own window covers in our Sprinter campervan, we quickly realized the value of purchasing good window covers. The VanEssential window covers are insulated and accordion fold up into a nice compact bag for storage.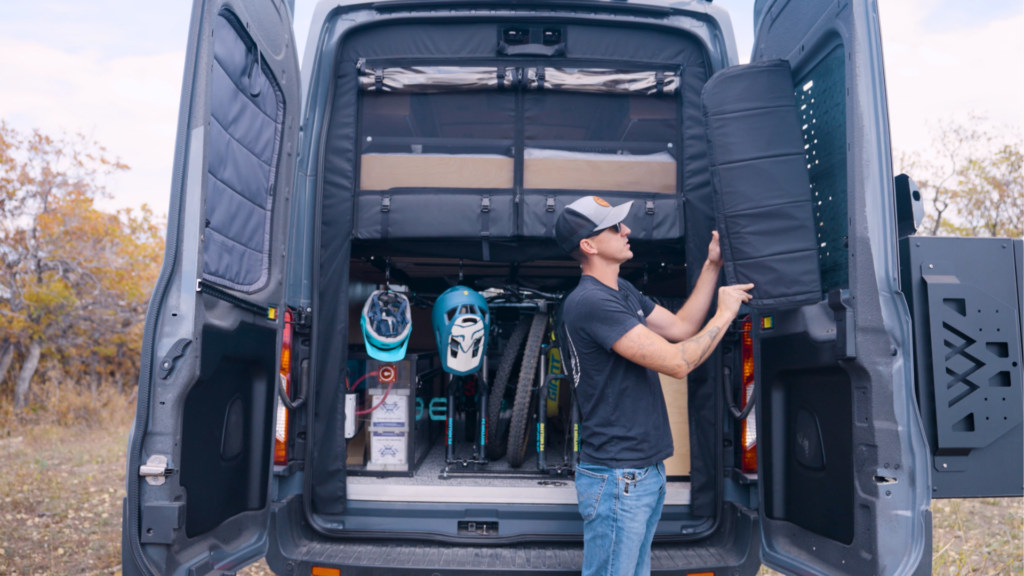 Cost of the van – $65,759.98
This is the cost of the 2021 Ford Transit before conversion, with taxes, fees, registration, etc. included.
Total Cost Overall – $124,859.72
While the cost of converting a 2021 Ford Transit into a fully equipped campervan may seem substantial, the freedom and adventure it offers are priceless to many. And comparing this cost to a build from a professional upfitter such as Storyteller Overland or Outside Van, you're saving a substantial amount of money by DIYing your campervan.
Hopefully this breakdown of our expenses gives you a clear picture of what to expect when starting your own DIY campervan project. Remember that costs can vary depending on your choices and preferences, so careful planning and budgeting are key to a successful and enjoyable campervan conversion.