This is it, it's finally done!  We can proudly announce that our DIY campervan conversion, aka Backpack 2.0, is COMPLETE.  After three months of blood, sweat, and tears (mainly sweat), we are ready to hit the road in our custom DIY Sprinter Camper Van.
FROM THE BEGINNING
So for those of you who might be new here, we purchased our 2007 Mercedes Sprinter from St. Louis, MO back in March 2017. It had 194,000 miles on it and had previously been used as a plumbing van. Overall, it was in good shape and a great candidate for a campervan conversion.
We planned to take about 2 months converting the van before taking off to live in it full time with our two pups.  This campervan will be our home for the next however many years we decide to stay in it.  So, let's get to the build…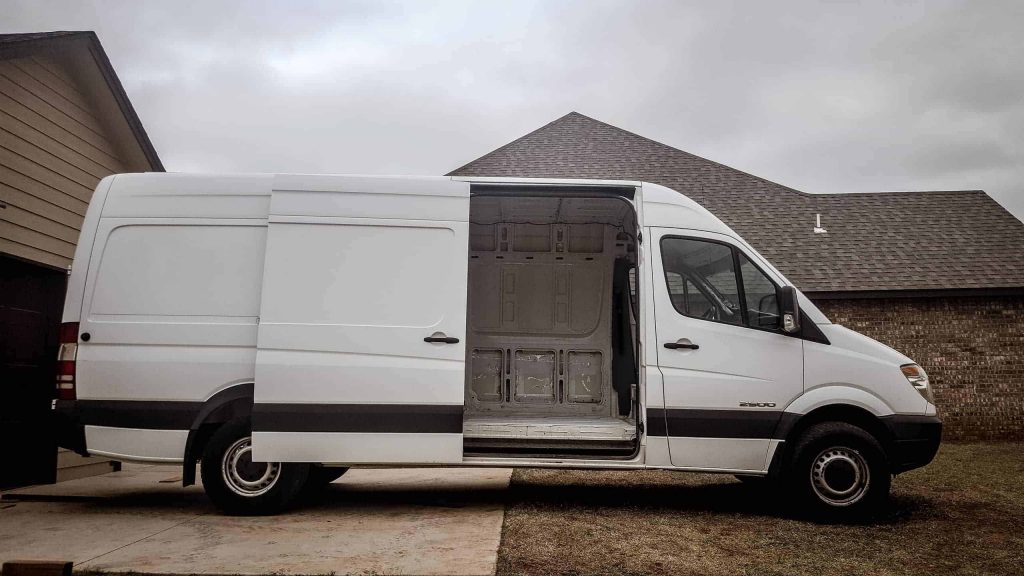 FACTS ABOUT OUR DIY CAMPER VAN
2007 Mercedes Sprinter (Badged as a Dodge)
194,000 Miles at Purchase
Purchased for $12,400

Total cost $14,082.57 after registration fees

Built entirely by Nate and Steph
Approximately 90 sq. ft living area
Total campervan conversion cost: $38,867.57 (including price of van)
WATCH THE FULL VAN TOUR HERE:
BUILDING OUR CUSTOM DIY CAMPER VAN
To start the process of our DIY campervan conversion, we had to strip it down and clean it thoroughly.  It had previously been a plumbing van, so it needed a lot of scrubbing.  Each of the steps below are links to the full tutorials, so if you are looking for how-to's, be sure to click the title of the section you are looking for. 
SOUND DAMPENING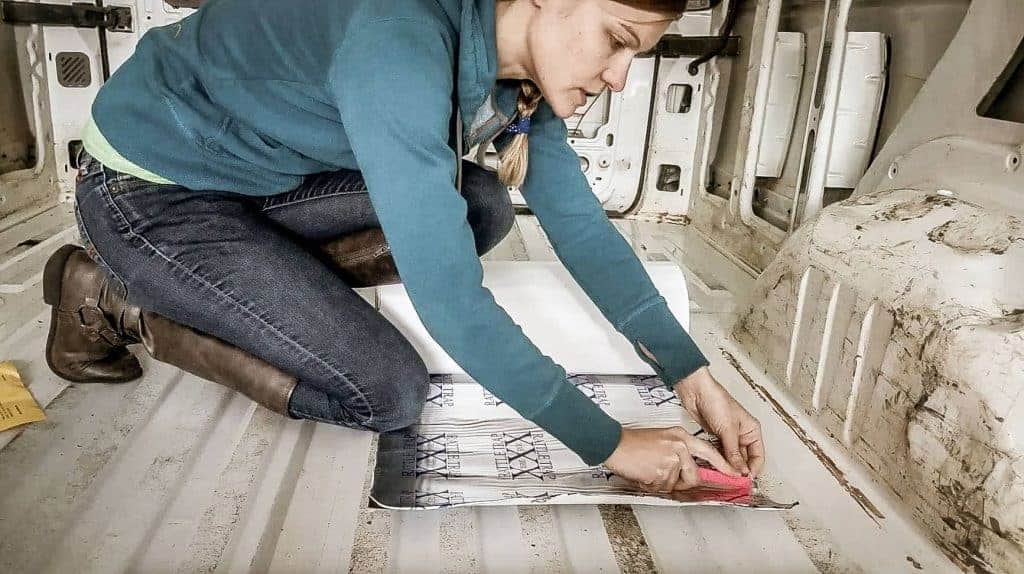 Driving an empty sprinter with no sound dampening is like rolling down the highway inside of a bass drum.  NOT pleasant.  To quiet down the ride, we installed FatMat RattleTrap sound dampener, mainly on the walls and around the wheel wells.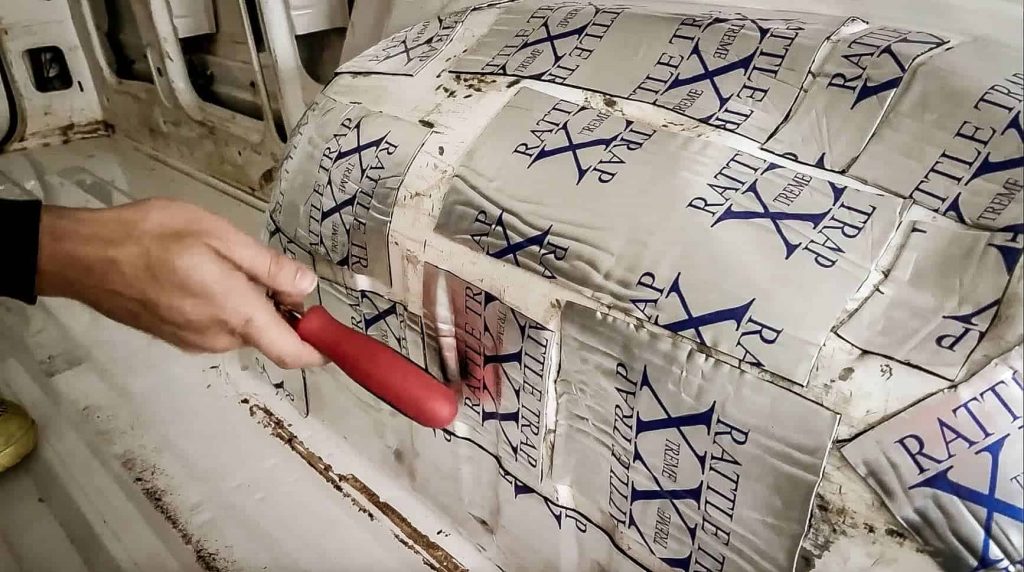 Total Cost of Sound Dampening: $142.34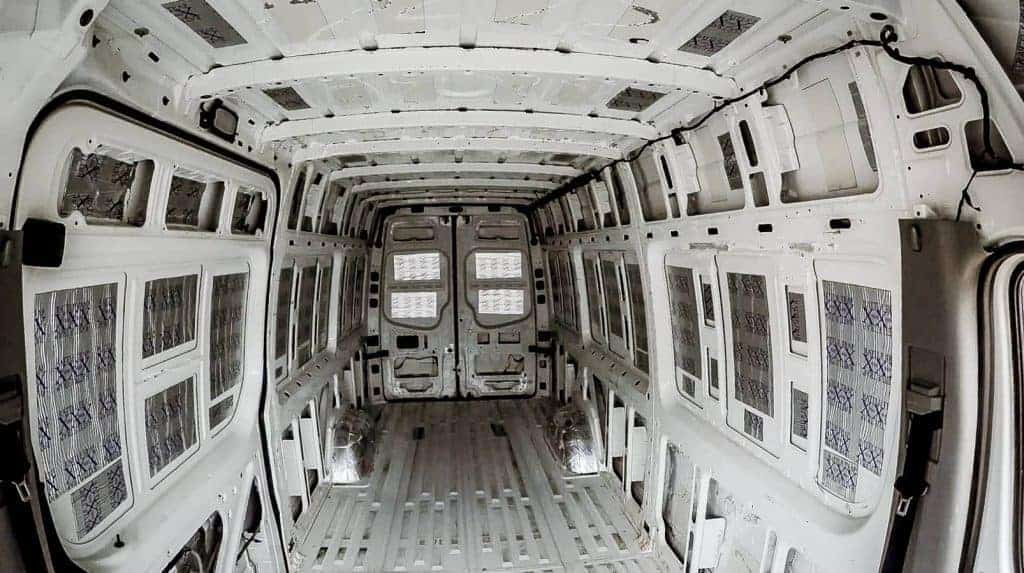 RELATED BLOG POST: INSTALLING SOUND DAMPENING ON A DIY CAMPER VAN
INSULATION
Insulation was a huge project, and we ended up using rigid foam insulation along with Great Stuff expanding foam.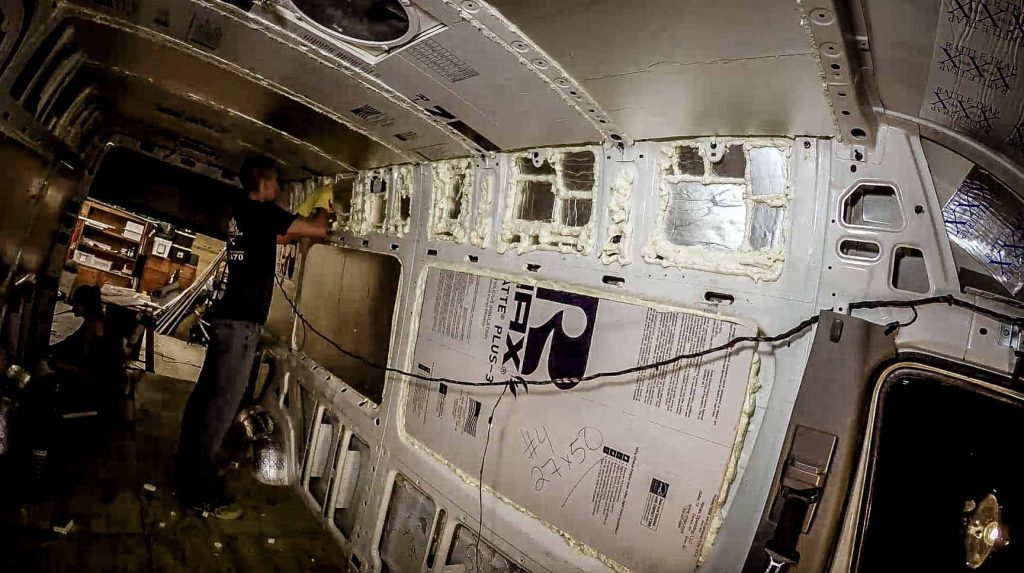 So far, we are happy with the results of the insulation, although we haven't done any scientific testing on it.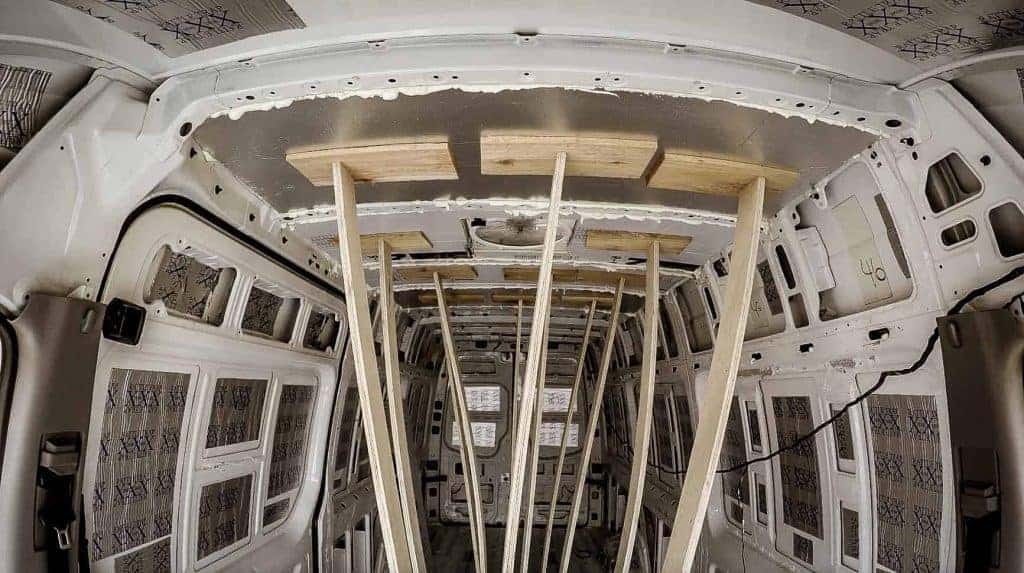 Total Cost of Insulation: $410.63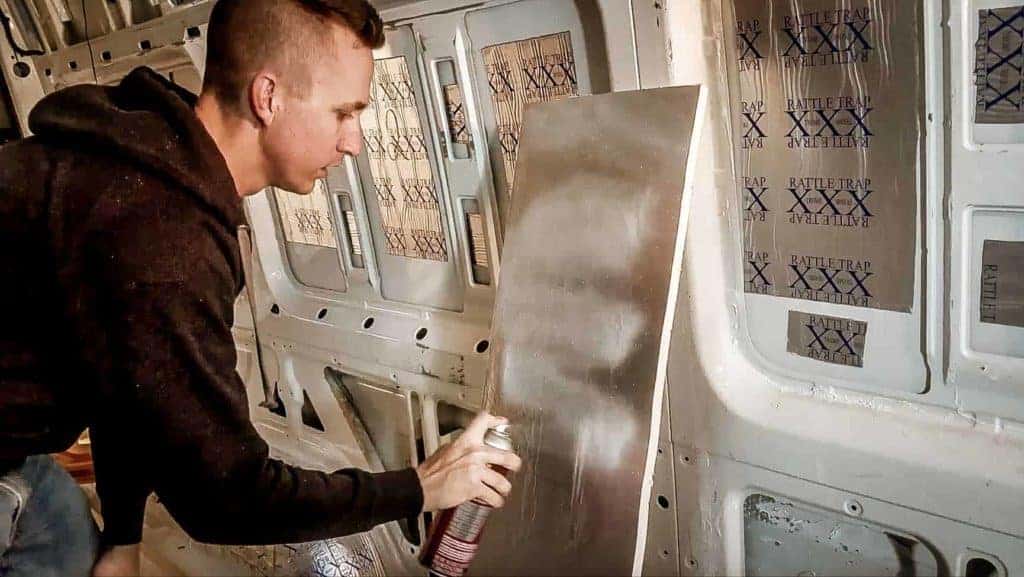 RELATED BLOG POST: INSTALLING INSULATION ON A DIY CAMPER VAN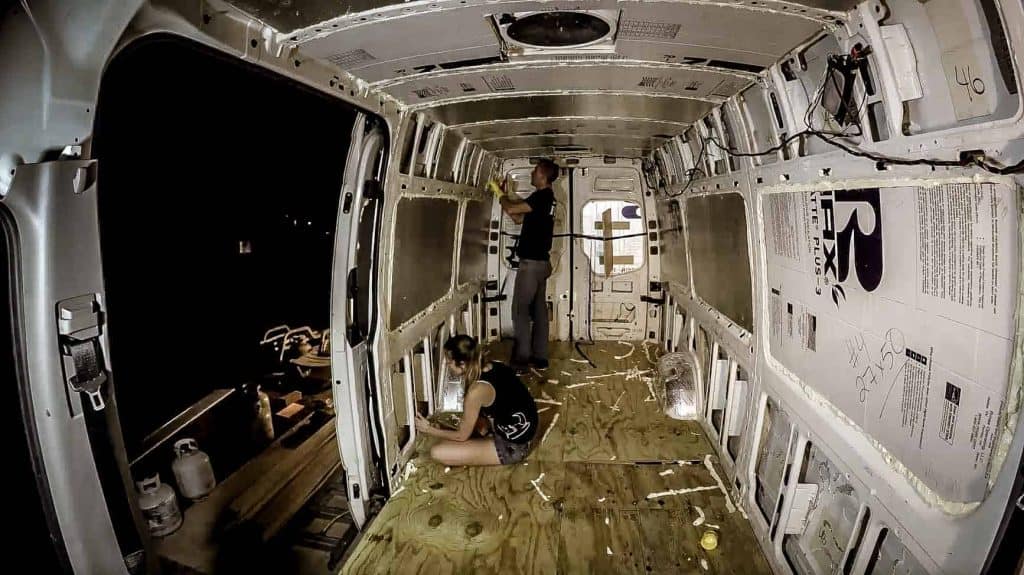 INSTALLING ROOF VENT FANS
We decided against installing A/C in our campervan, and instead opted for a huge amount of air flow through fans.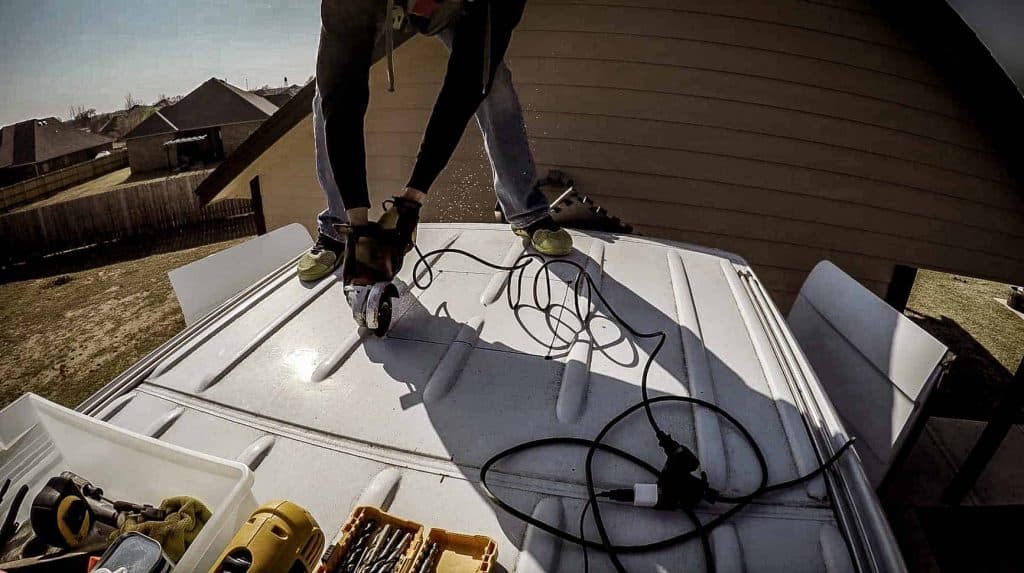 We installed two MaxxFan Deluxe rooftop fans at the front and back of the van and put three small DC fans throughout the van as well.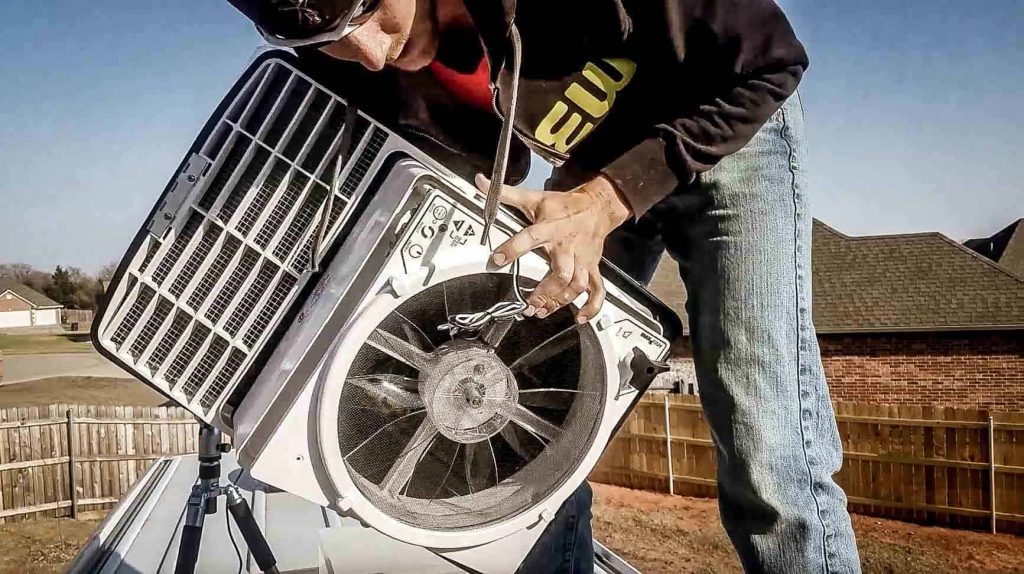 When all of them are on, it pretty much makes a wind tunnel in through the van.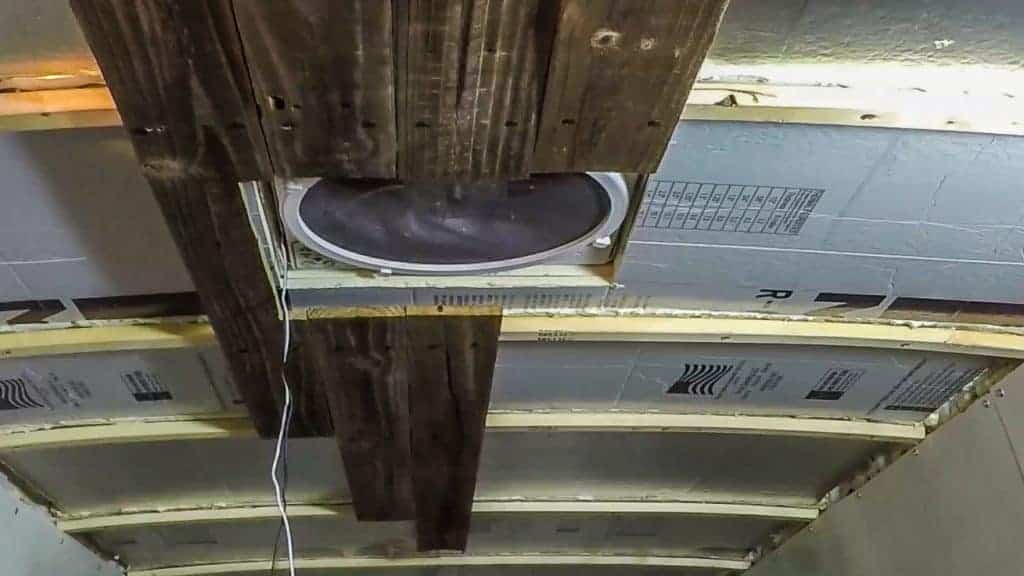 Total cost of Installing MaxxFan Deluxe: $689.93
RELATED BLOG POST: INSTALLING MaxxAir Fans ON A DIY CAMPER VAN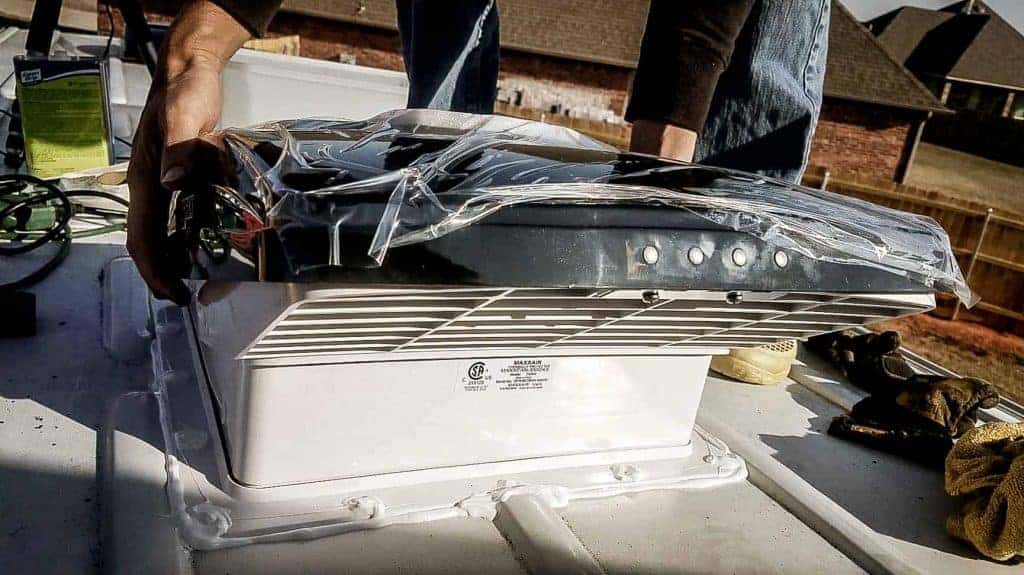 INSTALLING CAMPER VAN WALLS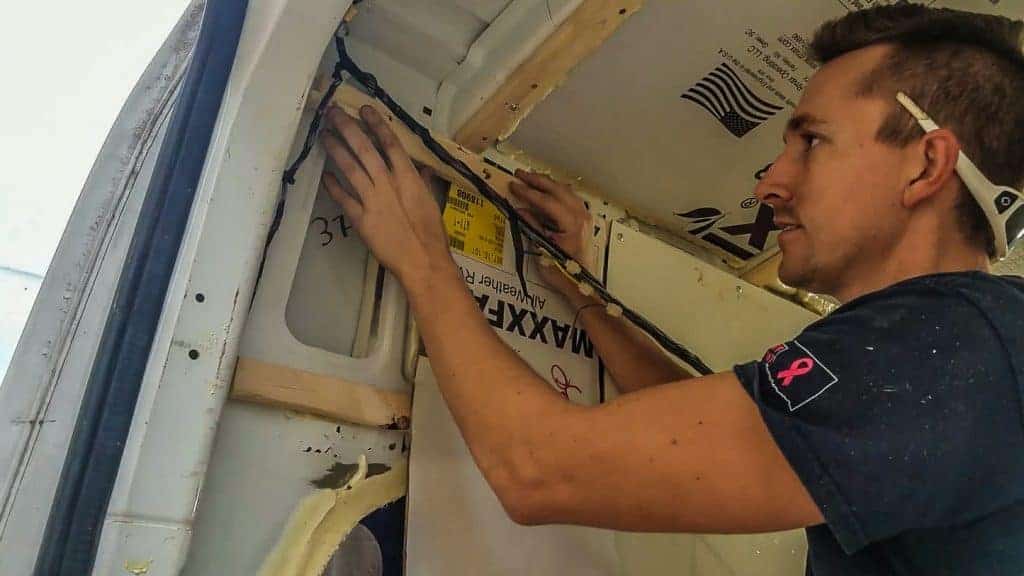 Installing Walls: Our walls in our Sprinter van are made from white tile board that is essentially dry erase board.  Installing the walls was really simple, and was made very easy with the help of a Dremel tool.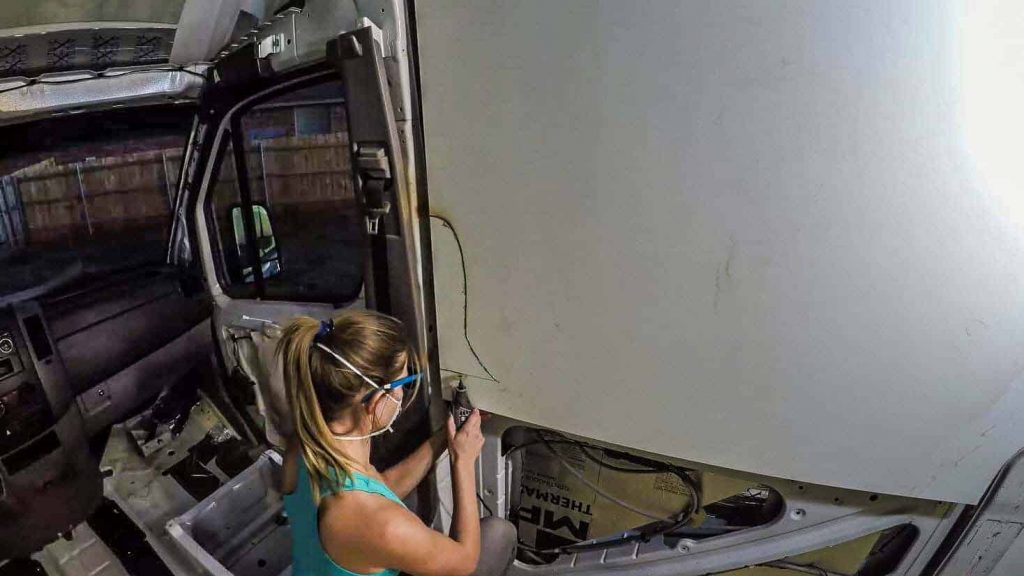 Total cost of Installing Walls: $347.39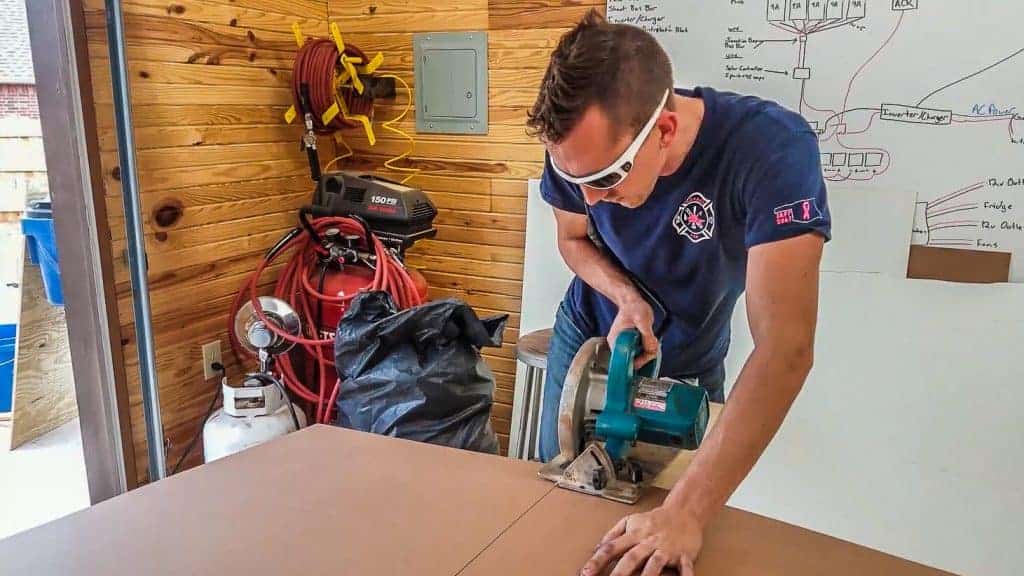 RELATED BLOG POST: INSTALLING WALLS IN A DIY CAMPER VAN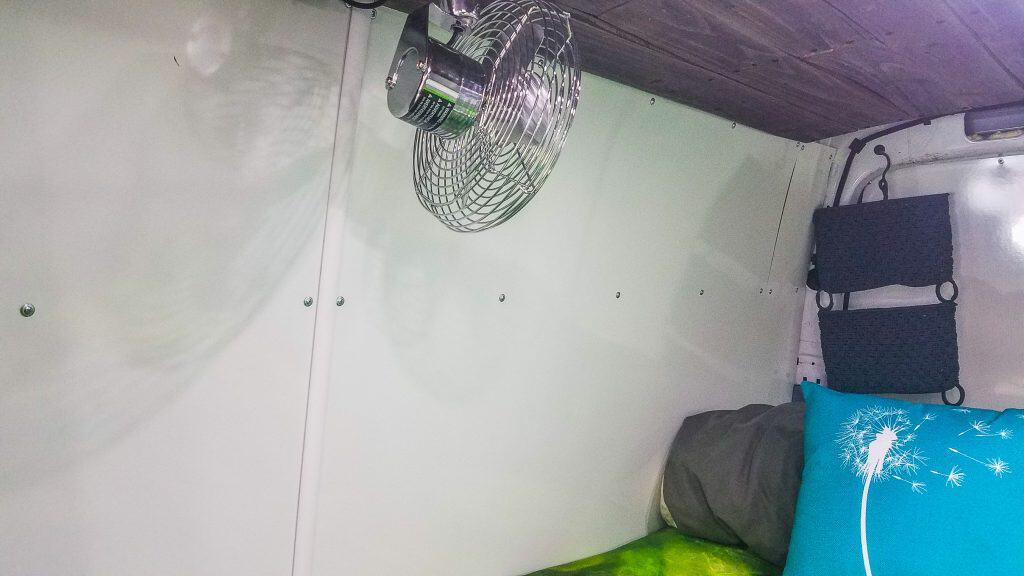 INSTALLING CAMPER VAN CEILING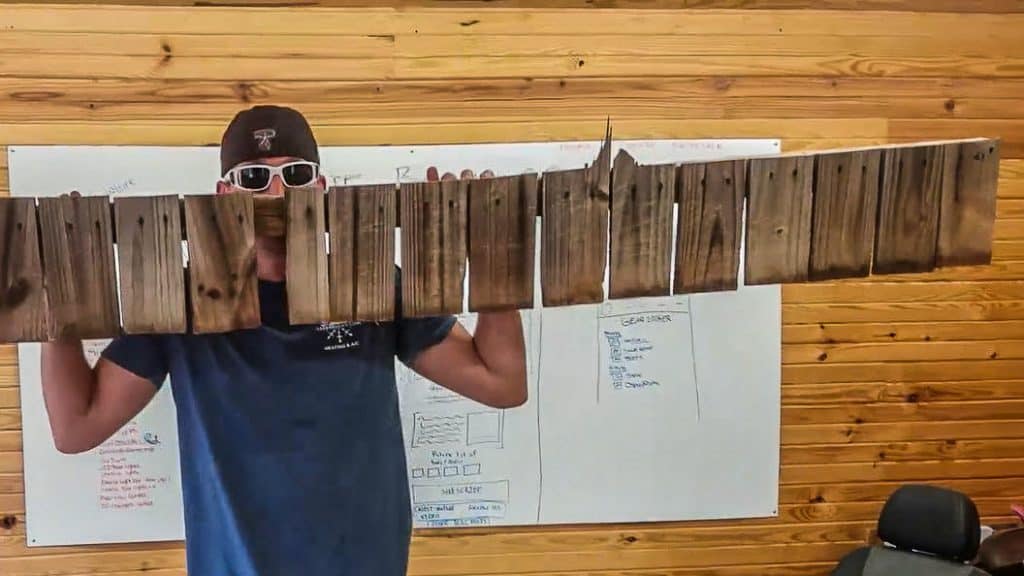 A wind storm took out the fence at Nates mom's house.  Rather than loading all of that cedar up and taking it to the landfill or burning it for a nice backyard campfire.  We cleaned it up, sealed it, and used it as our ceiling.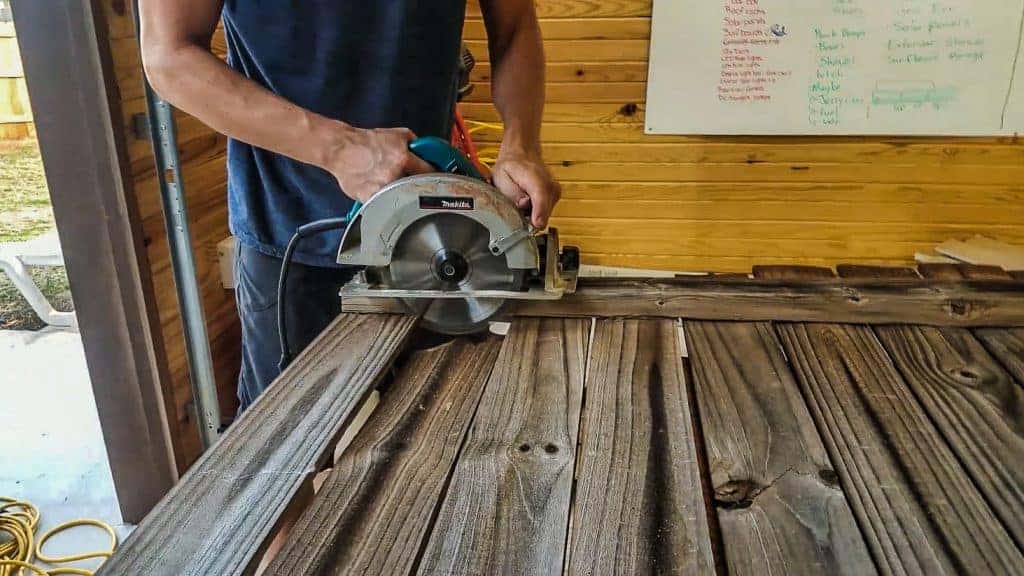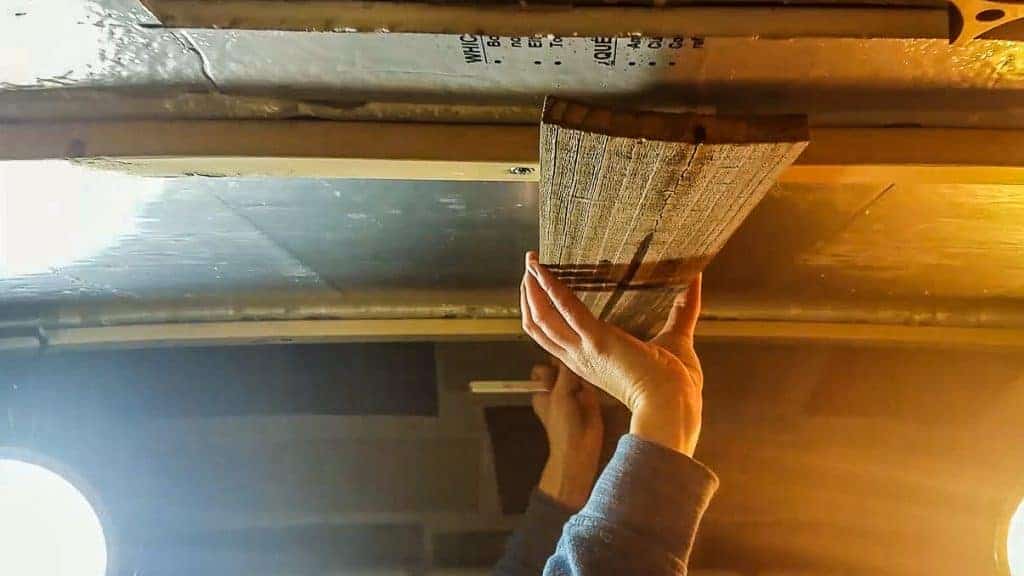 Total cost of Installing ceiling: $125.34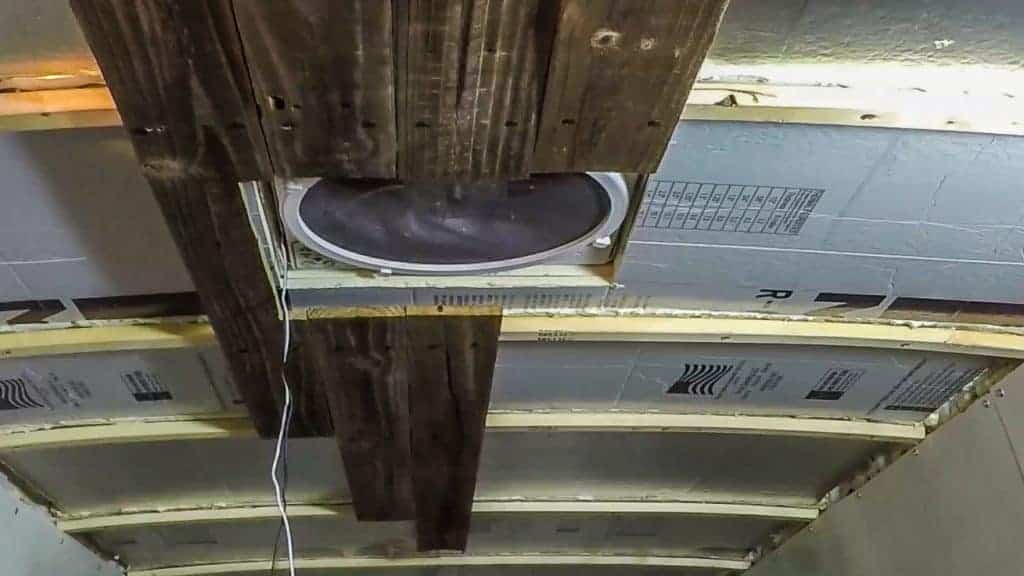 RELATED BLOG POST: INSTALLING A CEILING IN A DIY CAMPER VAN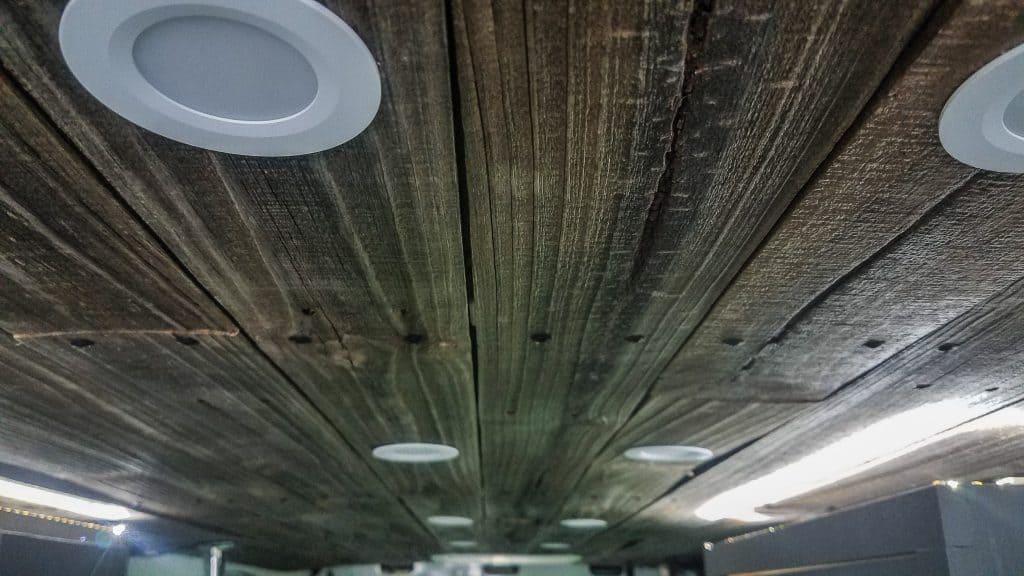 PLASTIDIPPING THE VAN
After making so much progress to the interior of the Sprinter van, we had to do something about the outside.  The white van wasn't cutting it for us.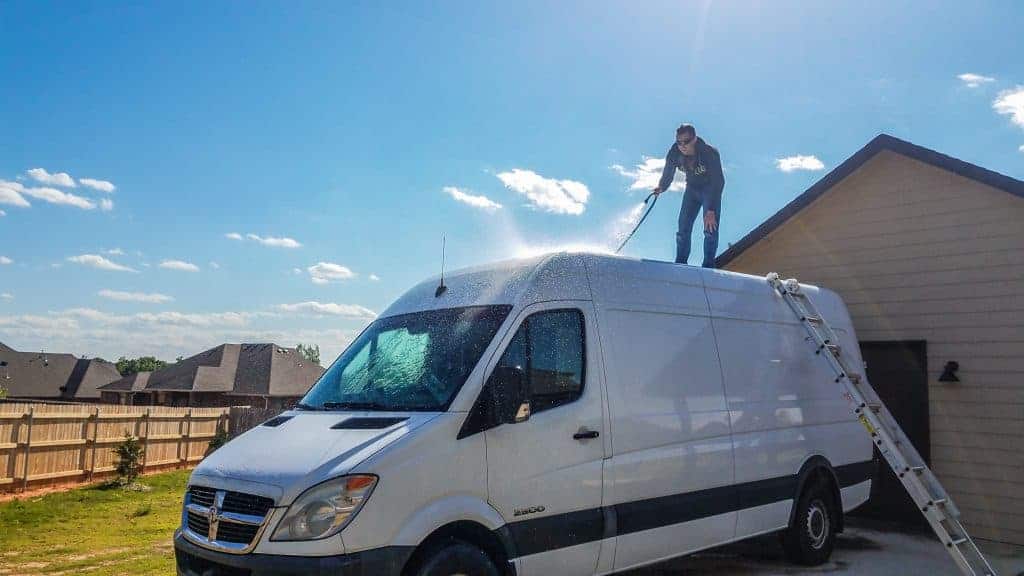 We opted for PlastiDip and actually applied it ourselves.  It was a pretty simple process, honestly.  We are happy with how it turned out.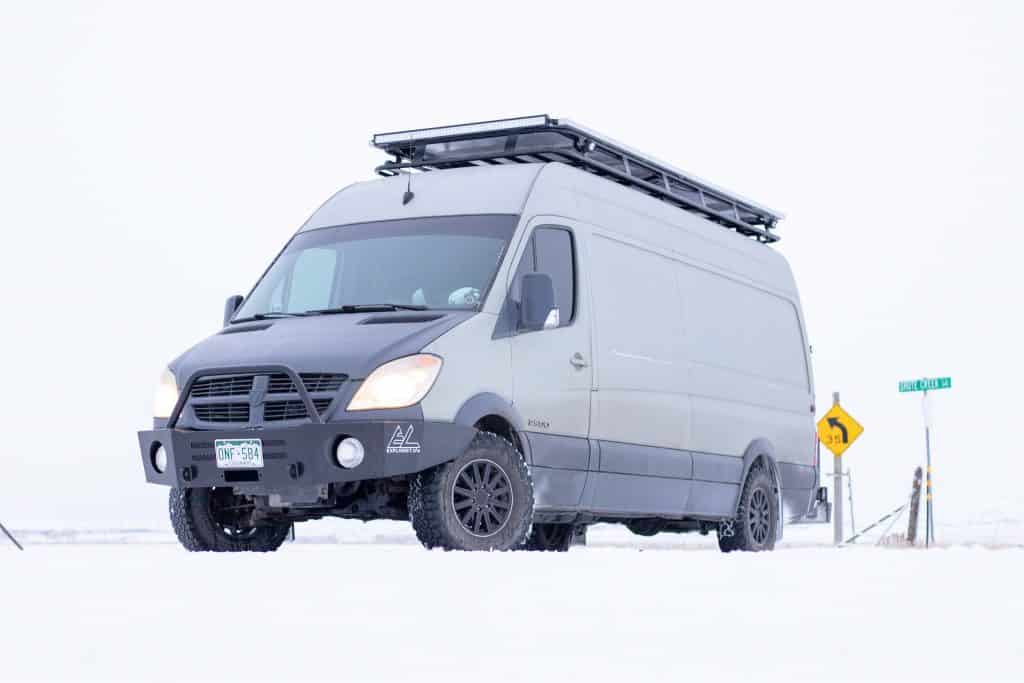 Total Cost of PlastiDip: $765.81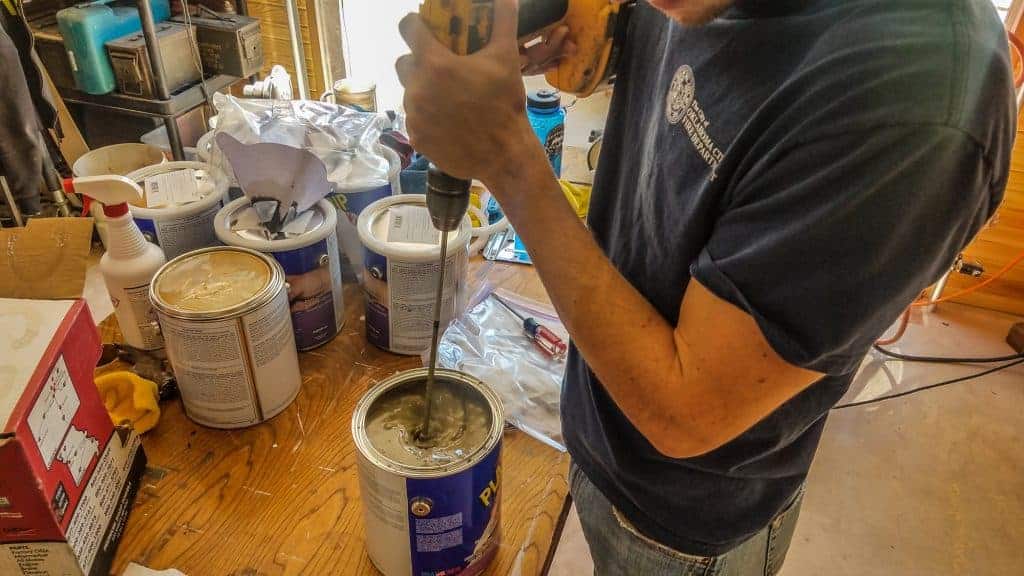 RELATED BLOG POST: SPRAYING PLASTIDIP ON A DIY CAMPER VAN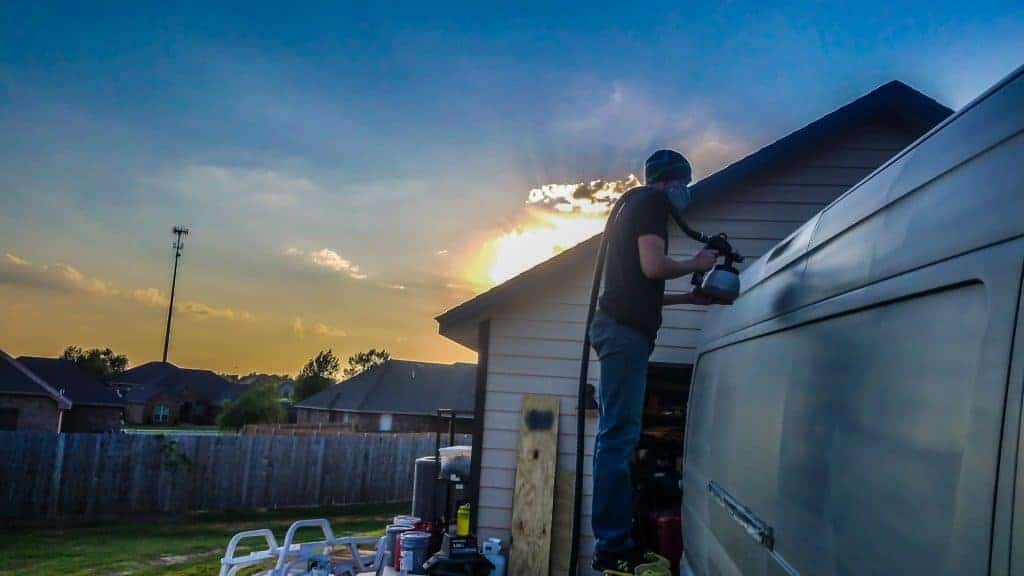 BUILDING CAMPER VAN CABINETS
This was truly the toughest part of the build.  Neither of us had much woodworking experience, much less making it pretty and lightweight.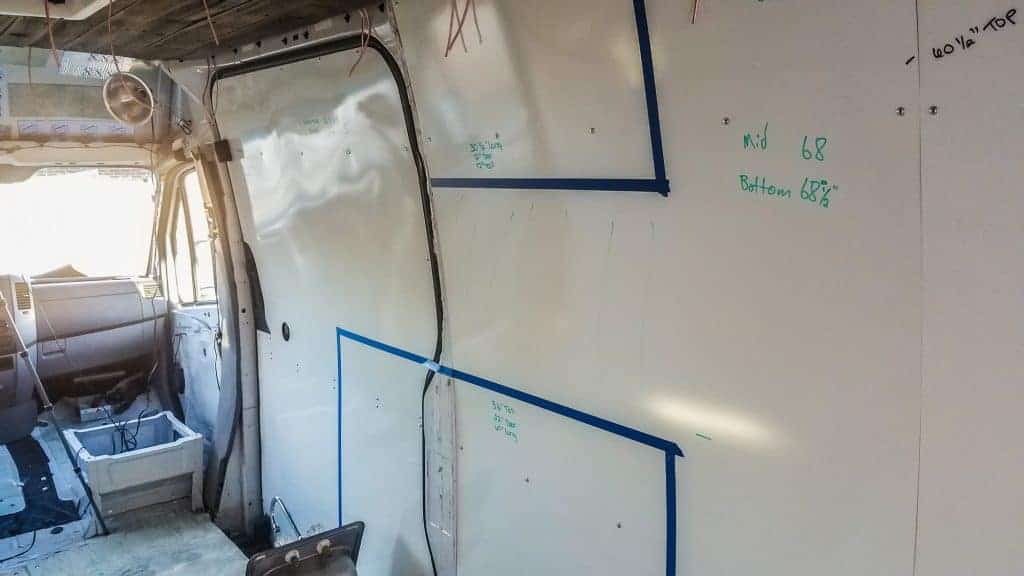 After about two weeks of late nights, we ended with a pretty slick looking set of cabinets.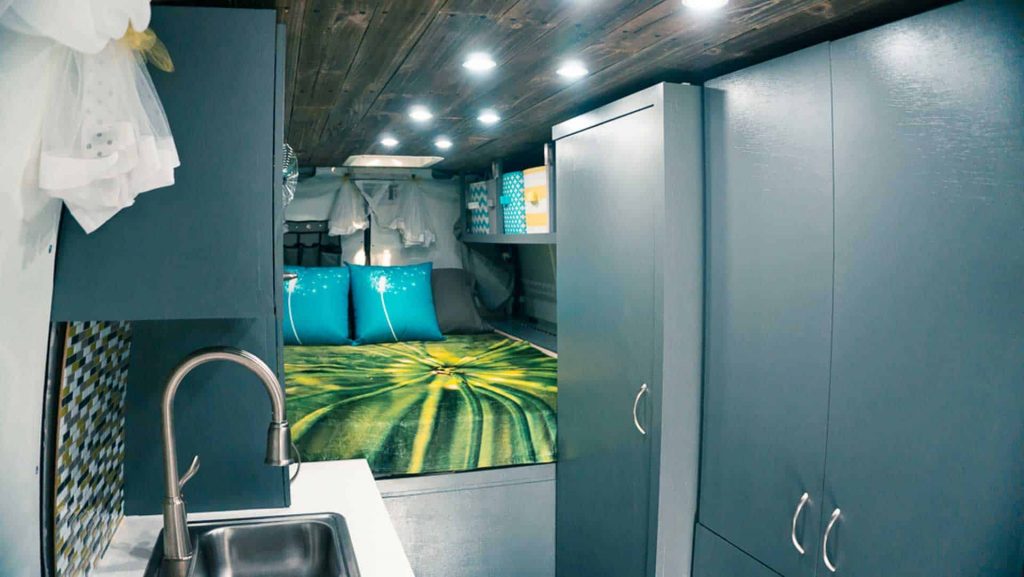 Total Cost of Cabinets: $1,143.99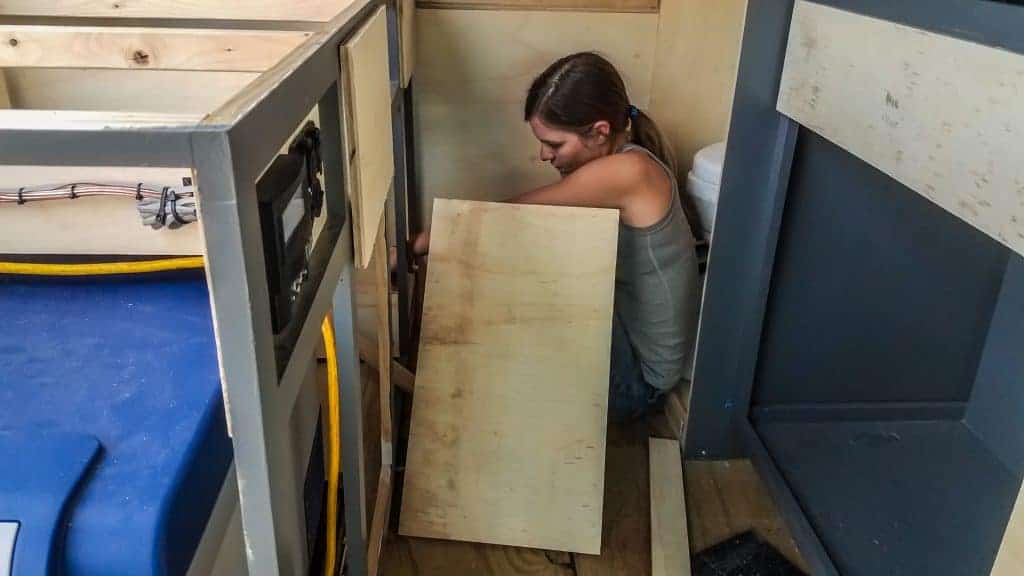 RELATED BLOG POST: BUILDING CAMPER VAN CABINETS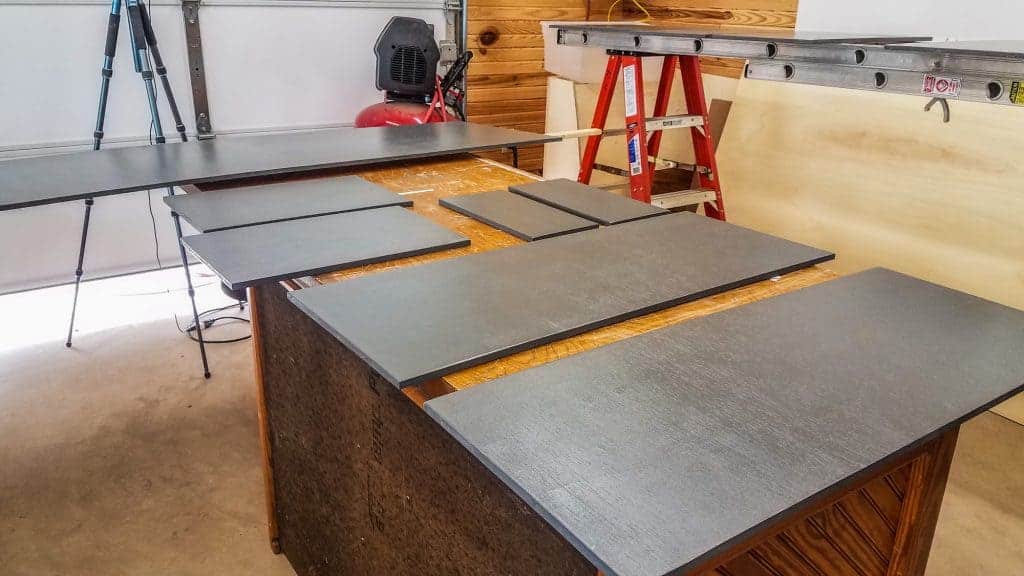 INSTALLING SOLAR
We are super proud of our solar setup.  We have 825 watts of solar and 600 amp hours of battery.  We did a full writeup with wiring diagrams and buying guides, so definitely check it out if you are looking to do solar.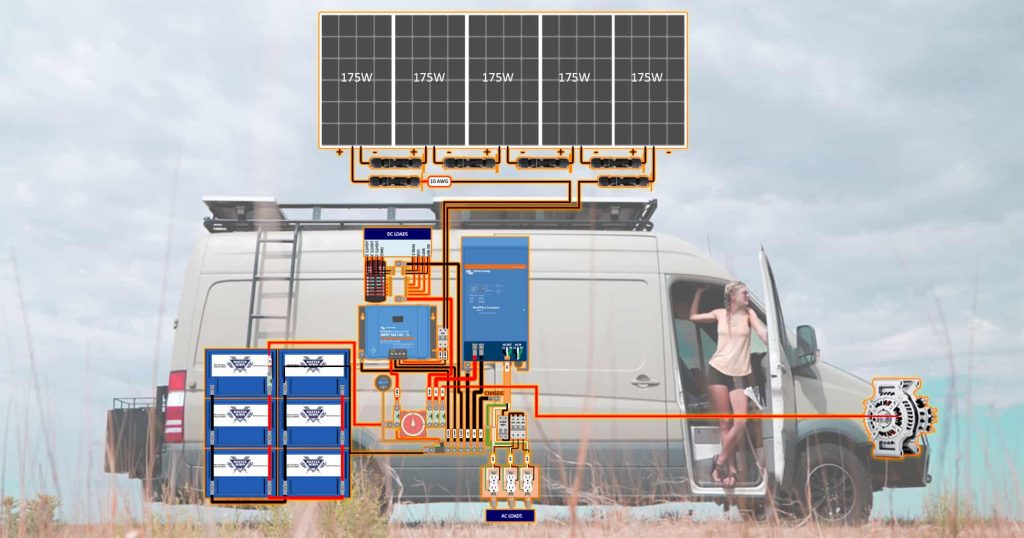 Total Cost of Solar Installation: $4,686.31 (mk i  We spent more on mk ii after the first year upgrading to lithium)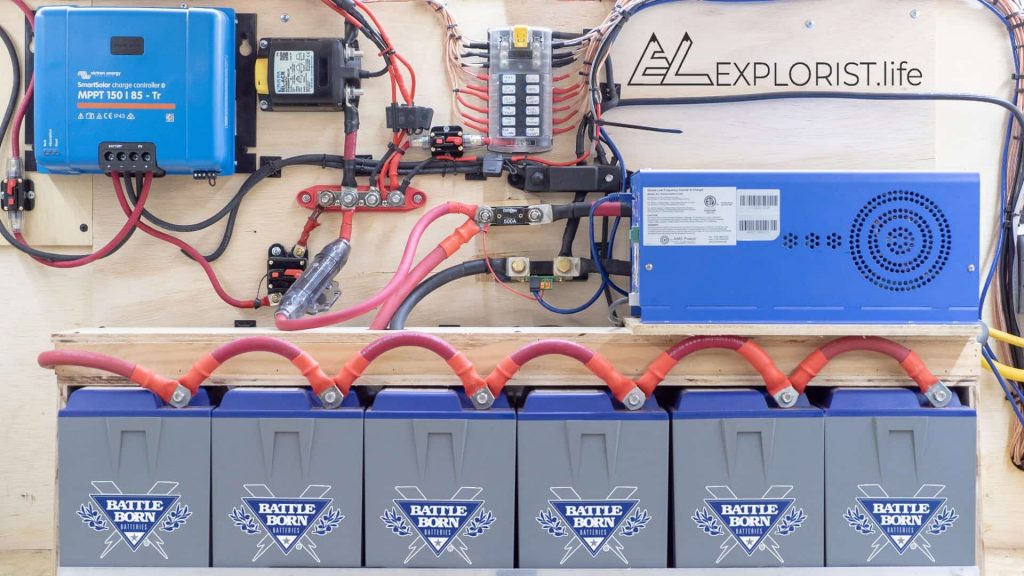 RELATED BLOG POST: INSTALLING CAMPER VAN SOLAR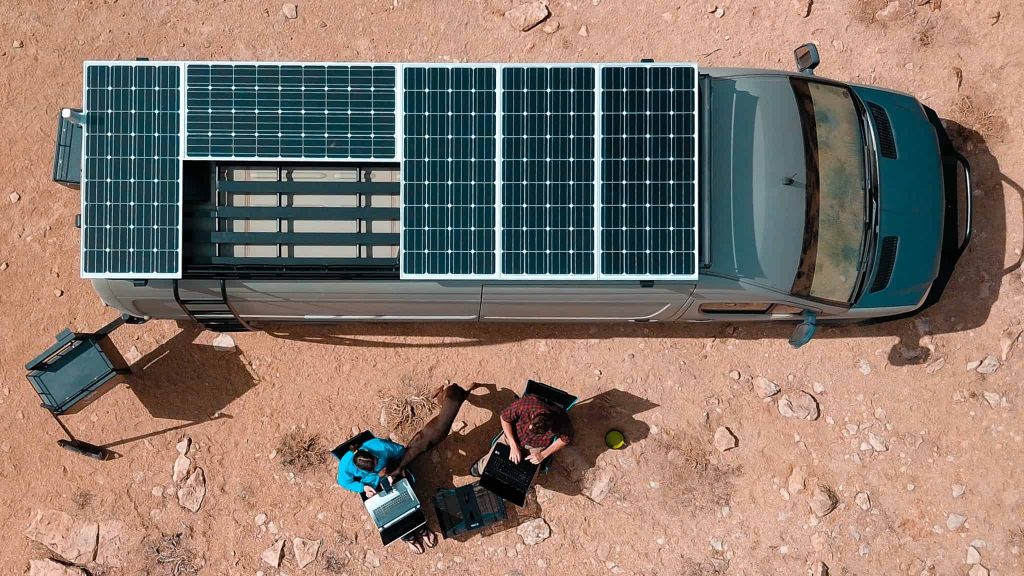 Flooring
We installed bamboo flooring for easy cleanup in the van. It was simple click and lock flooring and the installation was quick and easy to do.
Total cost of Flooring: $283.99
We didn't write a blog post about this. Oops! Maybe next time. 🙂
plumbing
Our plumbing for fresh water is run from the back "garage" of the van under the bed and is plumbed to the sink in the kitchen.  It's run off of a simple irrigation pump and drains by gravity down to the grey water tank under the sink.  
Total Cost of Plumbing: $255.89
Note: We have actually been unhappy with how our plumbing setup has worked but have yet to make improvements. This means there is no tutorial available… yet…
Other Misc. Costs:
| | |
| --- | --- |
| Appliances | 338.39 |
| Composting Toilet | 400 |
| Sound System | 718.96 |
| Bed & Mattress | 482.56 |
| ARB Refrigerator | 607.18 |
| Roof Rack | 3114 |
| Front Bumper | 3066 |
| Rear Bumper with Boxes | 3910 |
| Swivel Seats and Seat Covers | 705.05 |
| Wheels and Tire Upgrade | 1899.75 |
| Window Tint | 125 |
| Tools/Misc. Parts | 566 |
GRAND TOTAL COST OF OUR DIY CAMPERVAN CONVERSION (INCLUDING VAN COST):
$38,867.57