This blog post will show you how to install a high end campervan electrical system in a Mercedes Sprinter.
This Sprinter Camper electrical install was designed and installed by me, Nate from EXPLORIST.life, into a Mercedes Sprinter Camper Van built by Waypoint Vehicles, a newly launched professional camper van up fitter based in Los Angeles – focused on building premium adventure vehicles, using only the best of the best products available. This was truly a fun project and I'm excited to share it with you.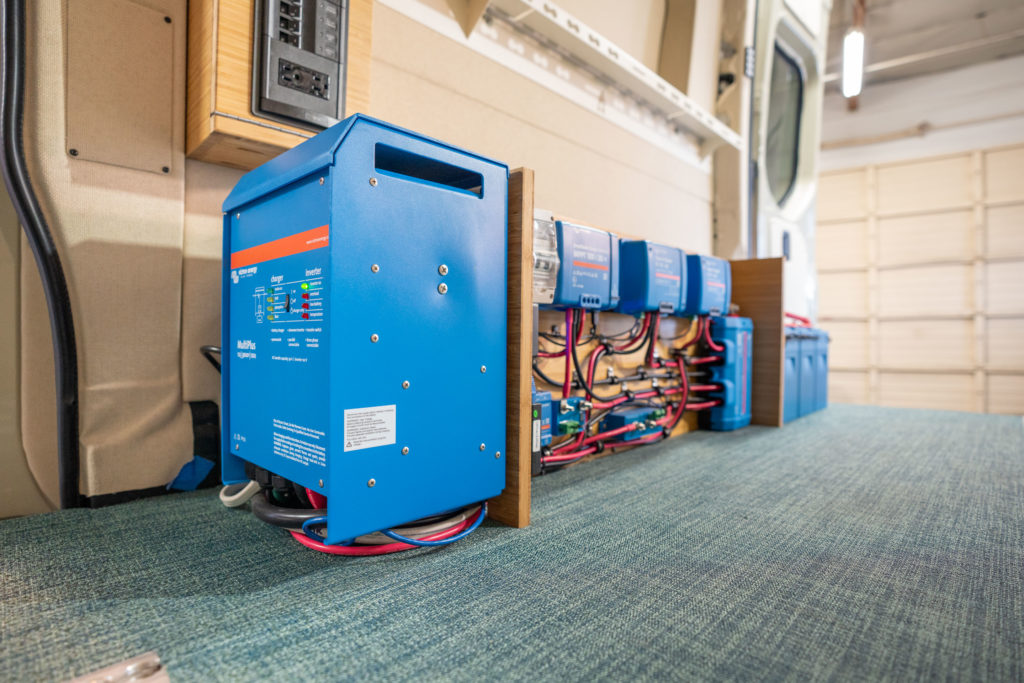 This blog post will show you the wiring diagram used, the parts necessary for install, as well as some additional details about the install process.
Waypoint wanted a top-of-the-line camper electrical system, with the ability for customers to expand their systems and evolve over time as needed. This system features a 100% Victron Energy based powerplant with Blue Sea Systems and Switch Pros integration for AC and DC loads which can be switched from multiple locations in the van via touchpad or a smartphone app.
This diagram features:
3000W Inverter Charger
600 Amp Hours of Battery Storage Capacity
180W Solar Array Capacity (Expandable to 440W)
Alternator Charging (60A)
Shore Power Charging/Passthrough
System Management via Victron Connect app & Cerbo GX w/ Touchscreen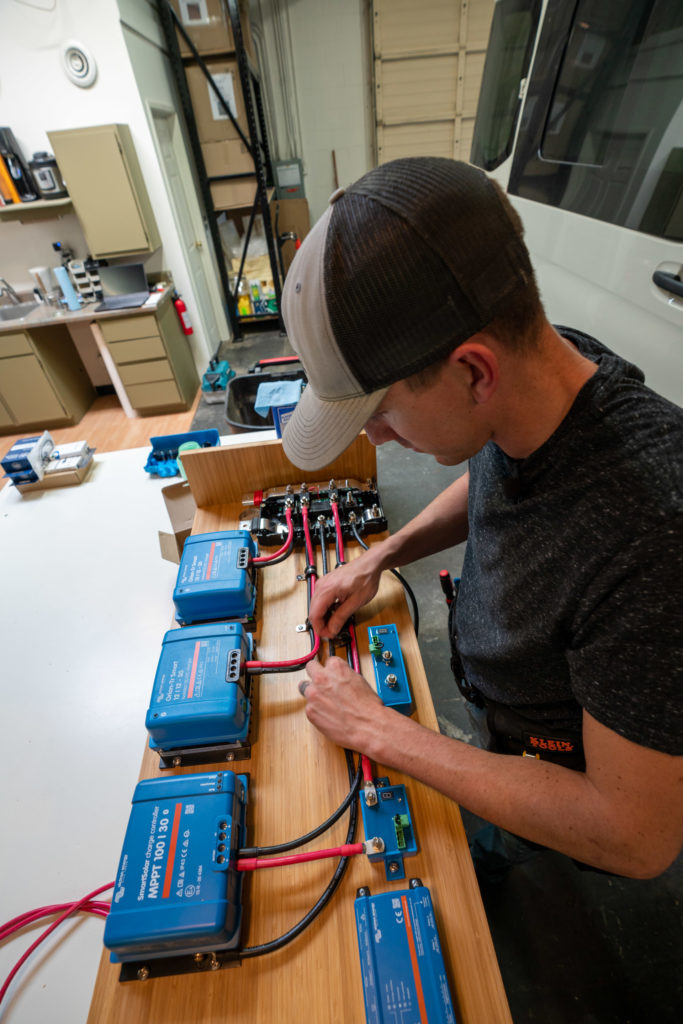 History of Changes to this Page (Click to Expand)

Updated diagram to feature Blue Sea 360 AC and DC panel instead of standalone units – Nov 1, 2021

Post Published October 23, 2021
Full Parts Kit For This Install
There are a TON of parts necessary to complete this project. Not only the Inverters and batteries, but lugs, heat shrink, copper washers, ferrules, signal wires, and a ton more. The itemized parts list for all (most) of these parts is listed below… but if you are planning on tackling this project yourself, you should check out the kit I helped Waypoint Vehicles assemble so you can get all of the components delivered to you in one go and save yourself 30 trips to the hardware store (only to find that the hardware store doesn't have what you need). This is truly going to be the easiest way to source all of the parts for this project. Here is the link to that kit: https://waypoint-vehicles-store.myshopify.com/products/ultimate-power-package

DIY Camper Van Wiring Diagram DIY Camper Solar Parts – Shopping List
The parts list below is a consolidated parts list for this entire system. This list is about 90% complete as I am having trouble sourcing a few items, but this should get you pointed in the right direction (but those parts are included in the Waypoint x EXPLORIST.life kit linked above).
IMPORTANT NOTE: For the 'Quantities' in the below shopping list, each singular component is listed a quantity per each, wire is listed a quantity of feet, and heat shrink is listed as qty 1 = 2.25″.
For Example:
Qty 1 – Inverter Charger means you need to purchase 1 Inverter Charger
Qty 3 – 4/0 Wire means you need 3 feet of 4/0 wire. This may mean you need to buy 5ft from the product page
Qty 5 heat shrink means you need 5 pieces of 2.25″ heat shrink. This means you'll need 5 x 2.25″ pieces of heat shrink for a total of 11.25″ of heat shrink.
| Column A | Column B | Column C |
| --- | --- | --- |
| Parts List | | |
| Product | Qty | Link |
| #12 x 3/4" Wood Screw | 5 | |
| #14 x 3/4" Pan Head Screw | 9 | |
| 1" Black Heat Shrink | 10 | |
| 1" Black Heat Shrink - 6" Long | 2 | |
| 1" Red Heat Shrink | 6 | |
| 1" Red Heat Shrink - 6" Long | 2 | |
| 1"x.25"x14" Copper Bar | 2 | |
| 1/2" Black Heat Shrink | 19 | |
| 1/2" Red Heat Shrink | 20 | |
| 10 AWG Black Solar Wire | 31 | |
| 10 AWG Ferrule | 2 | |
| 10 AWG Insulated Ferrule | 10 | |
| 10 AWG Red Solar Wire | 28 | |
| 10 AWG Triplex Wire | 6 | |
| 18 - 22 AWG Butt Splice Connector | 2 | |
| 18 AWG Black Wire | 5 | |
| 18 AWG Dark Blue Wire | 3 | |
| 18 AWG Grey Wire | 8 | |
| 18 AWG Insulated Ferrule | 11 | |
| 18 AWG Red Wire | 8 | |
| 18-22 AWG x 5/16" Insulated Ring Terminal | 6 | |
| 2x18 AWG Insulated Ferrule | 2 | |
| 3/8" Black Heat Shrink | 1 | |
| 3/8" Red Heat Shrink | 1 | |
| 30A Shore Power Cord | 1 | |
| 30A Shore Power Inlet | 1 | |
| 4/0 Black Wire | 22 | |
| 4/0 Red Wire | 10 | |
| 4/0 x 3/8" Wire Lug | 7 | |
| 4/0 x 5/16" Wire Lug | 9 | |
| 400 Amp ANL Fuse | 1 | |
| 40A MEGA Fuse | 4 | |
| 5/16" Grounding Lock Washer | 1 | |
| 5/16" Hex Bolt - 1" | 2 | |
| 5/16" Lock Washer | 6 | |
| 5/16" Nut | 2 | |
| 5/16" Washer | 2 | |
| 6 AWG Black Wire | 42 | |
| 6 AWG Ferrule | 10 | |
| 6 AWG Insulated Ferrule | 3 | |
| 6 AWG Red Wire | 43 | |
| 6 AWG Triplex Wire | 10 | |
| 6 AWG x #10 Wire Lug | 12 | |
| 6 AWG x 5/16" Wire Lug | 15 | |
| 60A MEGA Fuse | 1 | |
| BEP ANL Fuse Holder 778-ANL2S | 1 | |
| BEP Joiner Bar LB-1 779-LB-1-B | 1 | |
| BEP Pro-Installer Battery Disconnect 771-S-EZ | 1 | |
| Cerbo GX | 1 | |
| DIN Rail Breaker Box | 1 | |
| Female MC4 Connector | 1 | |
| GX Touch 50 | 1 | |
| LiFePO4 Battery 12,8V/200Ah Smart | 3 | |
| Lynx Adapter | 1 | |
| Lynx Distributor | 1 | |
| M10x30mm Brass Bolt | 1 | |
| M8 circular connector Male/Female 3 pole cable 2m (bag of 2) | 1 | |
| M8 Copper Washer | 6 | |
| M8x25mm Stainless Bolt | 6 | |
| Male MC4 Connector | 4 | |
| MultiPlus 12/3000/120-50 120V VE.Bus | 1 | |
| Orion-Tr Isolated DC-DC Charger remote cable | 1 | |
| Orion-Tr Smart 12/12-30A (360W) Isolated DC-DC charger | 2 | |
| RJ45 UTP Cable 0,3 m | 1 | |
| RJ45 UTP Cable 0,9 m | 1 | |
| Roof Entry Gland | 1 | |
| Smart BatteryProtect 12/24V-100A | 1 | |
| SmartSolar MPPT 100/30 | 1 | |
| Solar Disconnect Breaker | 1 | |
| Solar Panel | 1 | |
| VE.BUS BMS | 1 | |
| VE.Direct Cable 1,8m | 2 | |
| Blue Sea 360 Panel - 120V AC | 1 | |
| Blue Sea 360 Panel - 12V DC | 1 | |
| Smart BatteryProtect 12/24V-65A | 1 | |