Over the last few years, the options for adding a roof rack have grown substantially. In the 'beginning' of the Sprinter camper conversion craze, there was, really, only one option for good looking and highly functional roof racks. In this blog post, I'm going to outline all of the options available for adding a roof rack to a Sprinter camper van conversion.

*If you have a lead on other Sprinter roof rack options that I've left out; leave a comment at the bottom of this page and I'll check it out*
Flatline Van Co
Flatline Van Co has multiple different options for Sprinter roof racks, but most of them focus around a flat siderail with 8020 extrusion lateral braces. This makes for a super low profile and lightweight roof rack: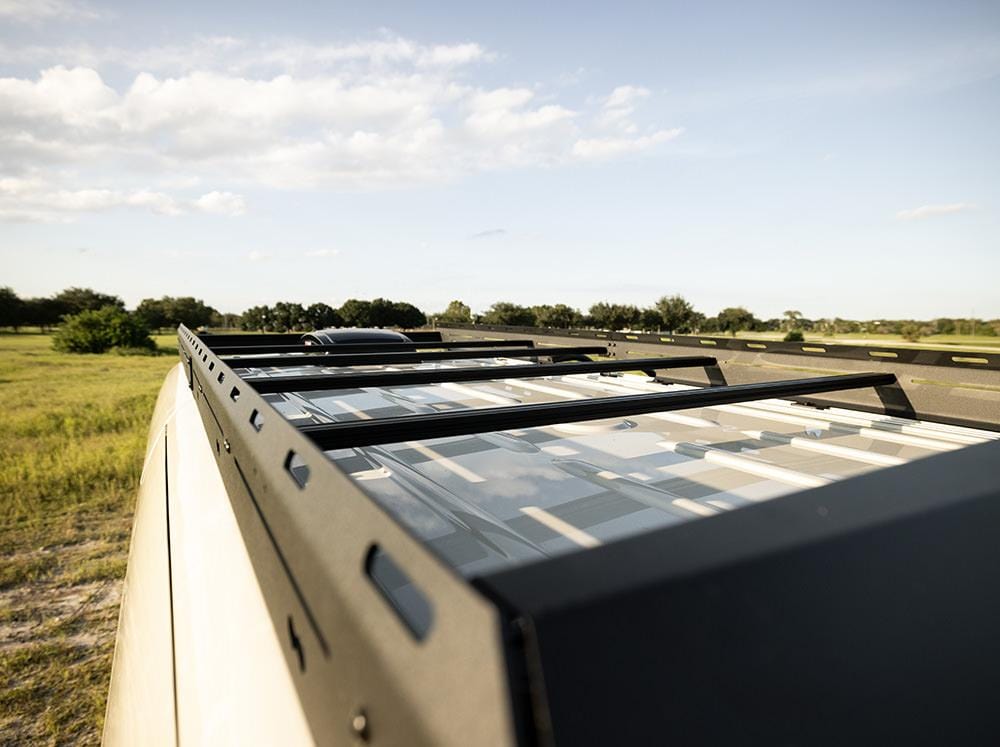 The flat siderails have plenty of holes for attachment points for things like light, awnings, ladders, etc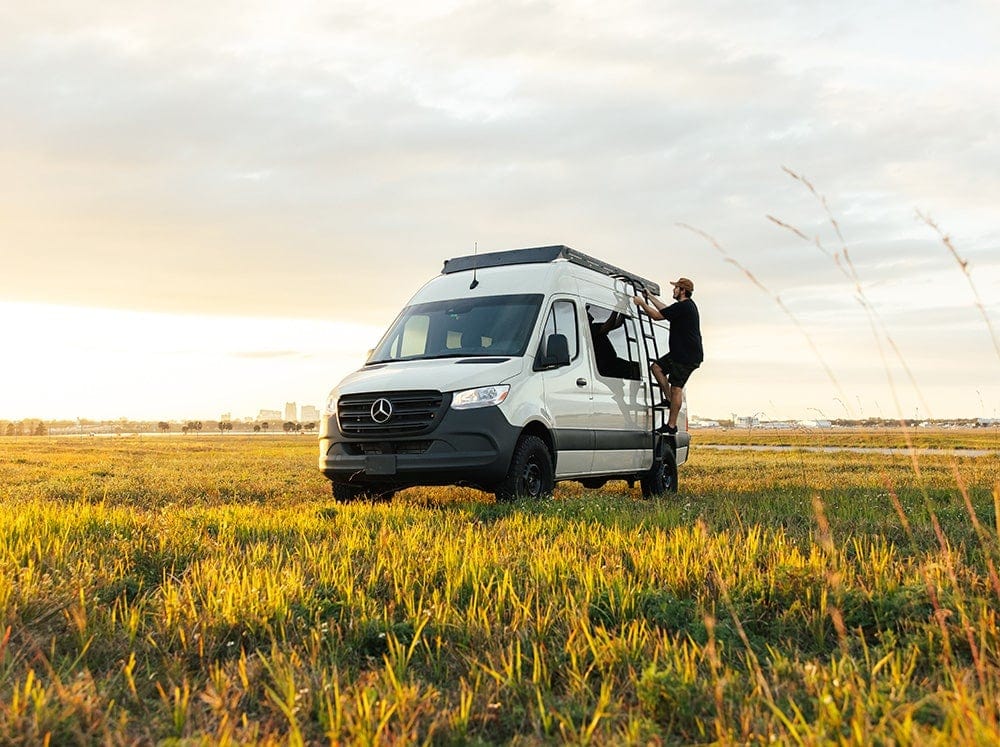 Click Here to Shop all Flatline Van Co Sprinter Roof Racks
Yakima LockNLoad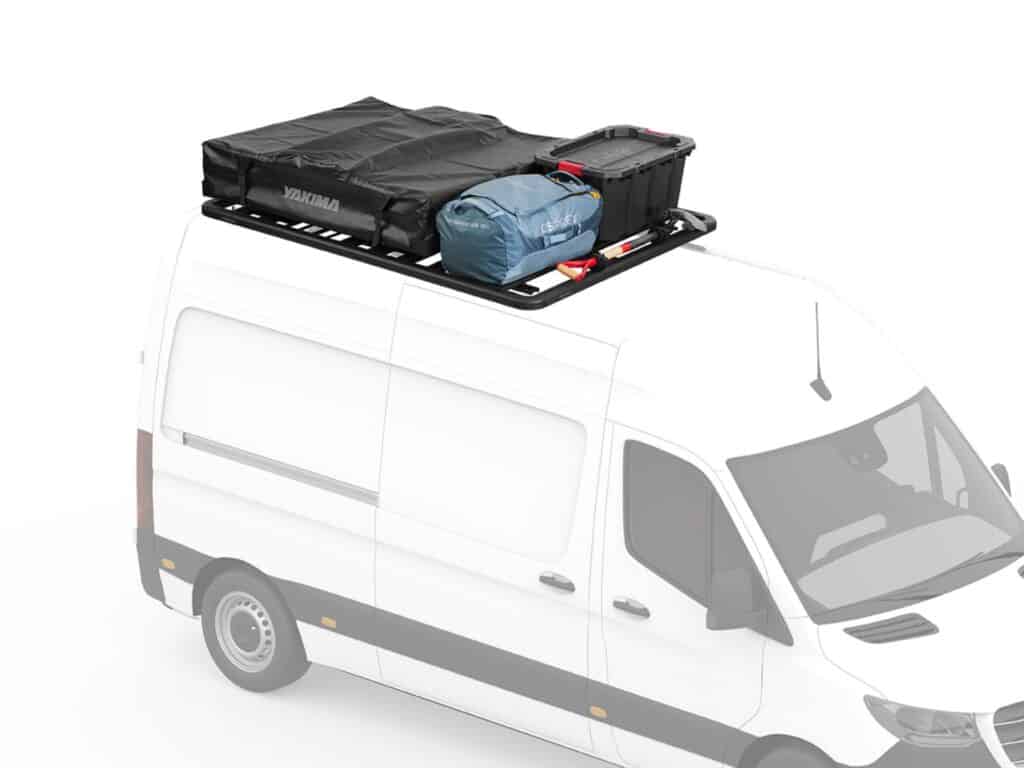 This roof rack system has been available and getting a proper thrashing in the Australian outback for a few years at this point. This fall (2019) it will be released into the US market…

…and This. Rack. Will. Be. A. Game. Changer…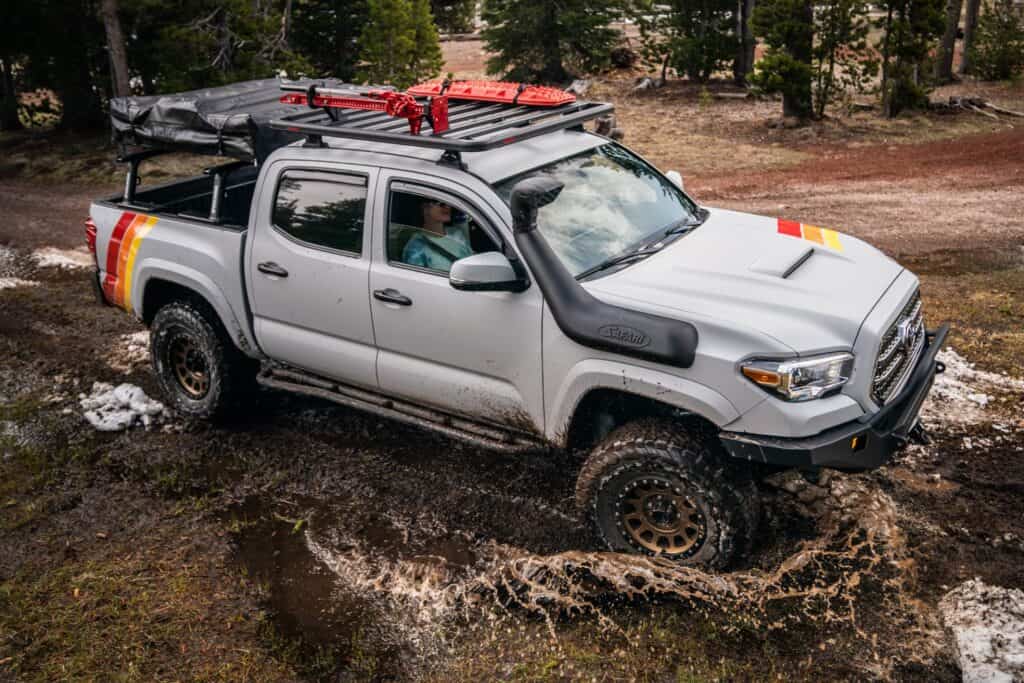 It's made of lightweight, corrosion-resistant aluminum like most of the racks on this page but the unique part about the Yakima LockNLoad system is found in its T-Slot system: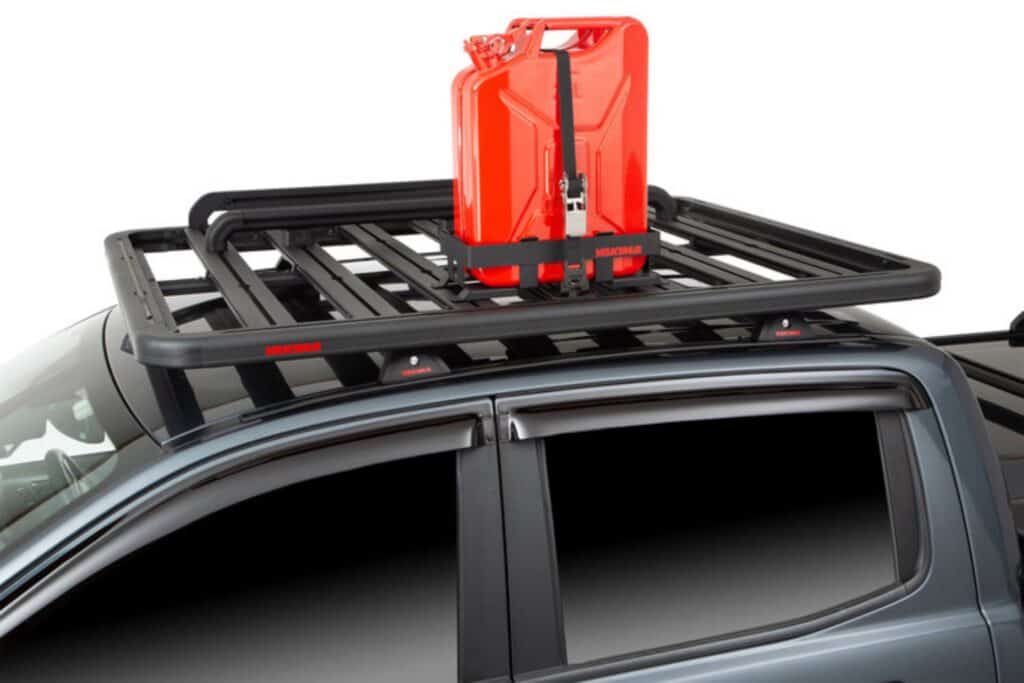 The Yakima LockNLoad features slots on all of the crossbars and on the top and outside of the outer loop of the roof rack. This means that you can attach solar panels, bike racks, cargo boxes, shovels, RotopaX fuel containers, high lift jacks, auxiliary lights, awnings, road showers, traction boards or really anything else you could possibly think of to this rack WITHOUT needing to drill additional holes in the rack.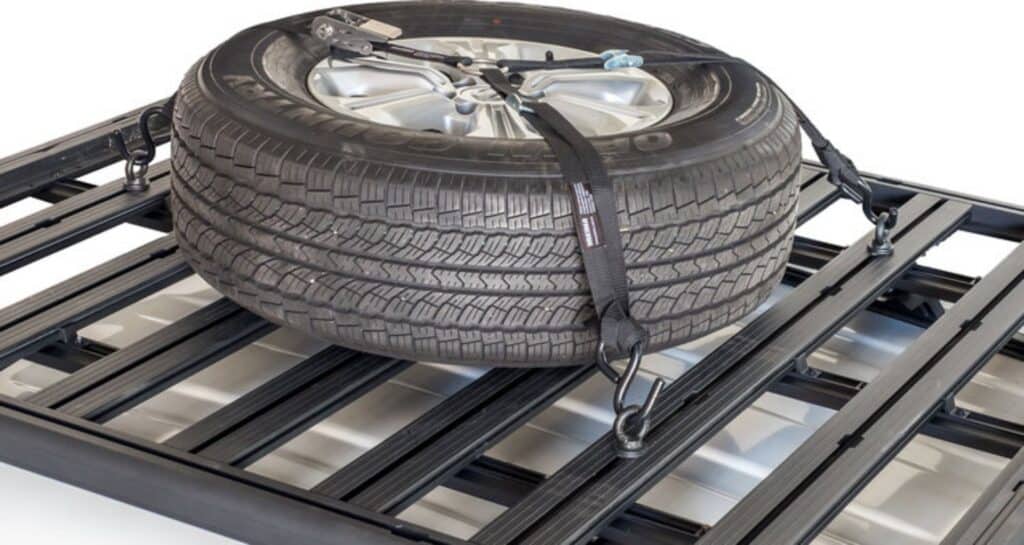 And since the T-Slot system allows it to be totally modular, the accessories can be removed, or moved to a different location on the rack depending on your needs (or season).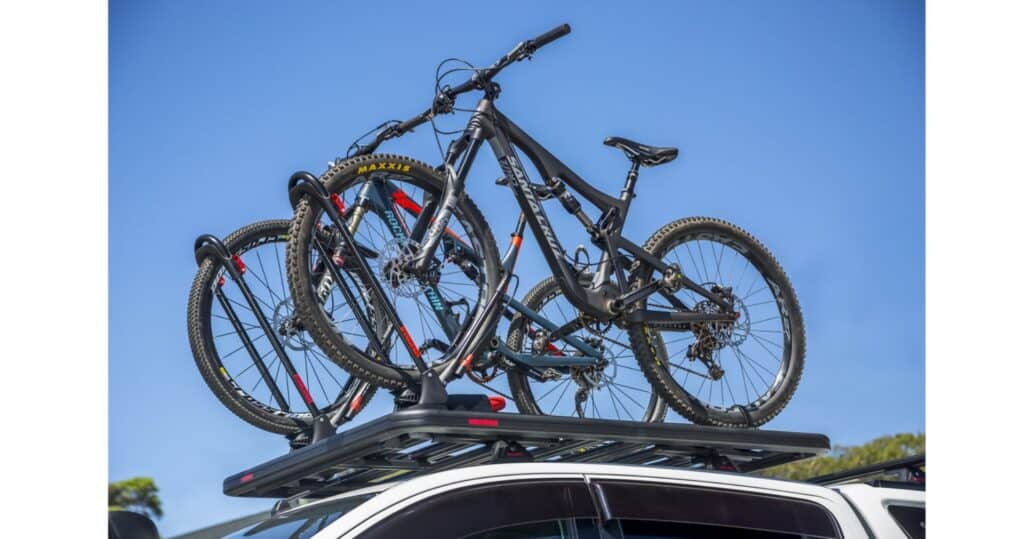 This roof rack also comes in six different sizes so you can place them between roof vents as needed depending on your setup.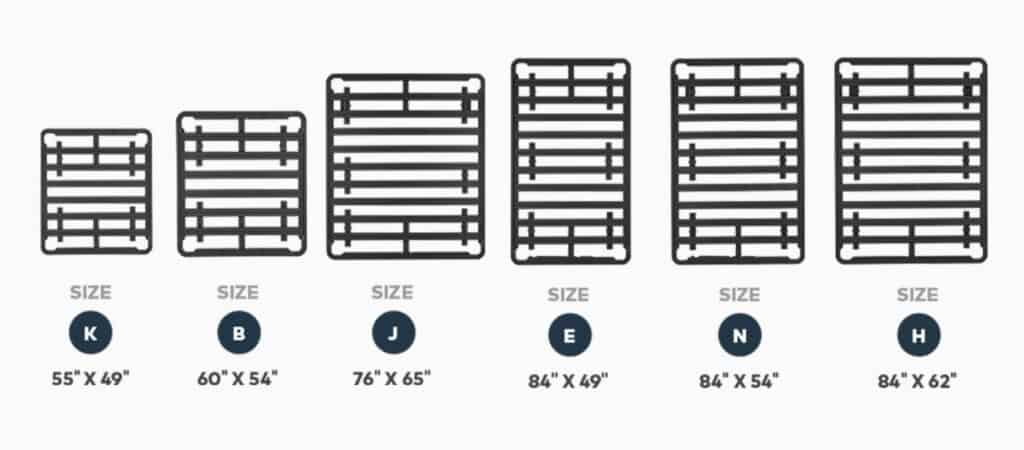 I'll update this post to include pricing once this system if officially launched in the US, but the pricing is going to be in the $729 – $979 ballpark depending on which size you need. In the meantime, you can find more information here: Click Here to Shop Yakima LockNLoad Platforms
Van Go Outdoors Sprinter Roof Rack
Van Go Outdoors is based out of St. Augustine Florida and has been in the custom vehicle and fabrication game for over a decade. Their racks are made from lightweight, corrosion-resistant aluminum with stainless steel mounting hardware.
The roof racks from Van Go Outdoors are very flexible/modular in nature. What I mean is, the crossbars can mount to the outer loop in virtually any position. Inside of the outer loop of the roof rack, there is a continuous piece of angle with holes every few inches so you can bolt the cross bars in any location you like to accommodate for roof fans, air conditioners, etc.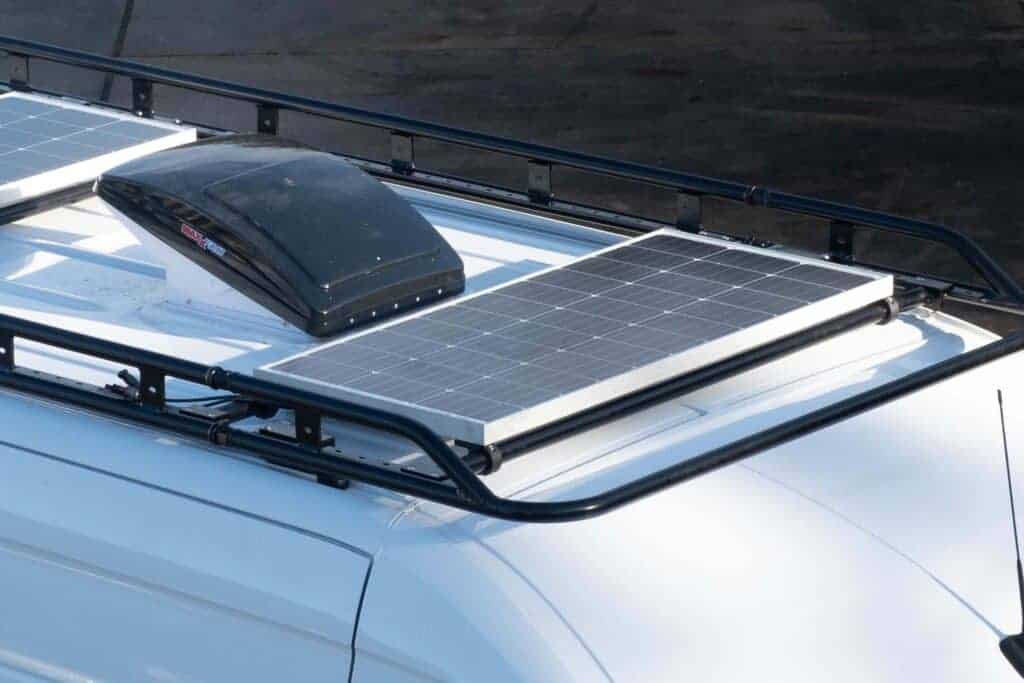 All of the vertical supports between the top and bottom rim hoops have a 5/16″ hole drilled in them so you can mount awnings, auxiliary lighting, shovels, road showers, or anything else you need mounted on the outside of the roof rack.
These racks come in two different styles. The "expedition style" features a turned down front rail which is perfect for mounting some big beefy round lights (or a light bar… just whatever you like, really):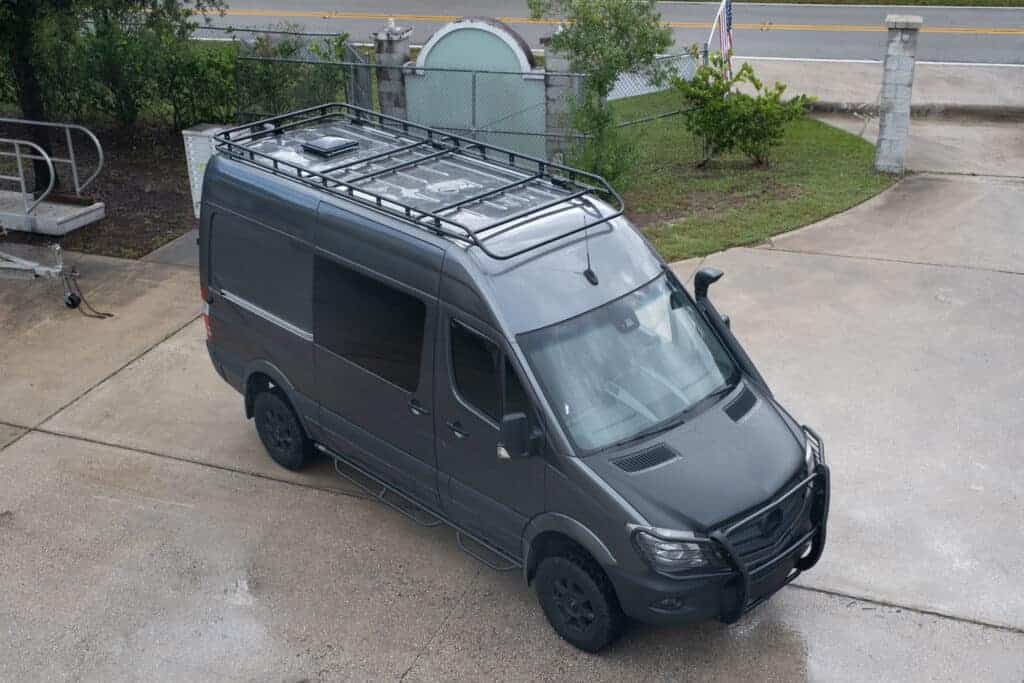 …and the "touring style" is a more sleek front-end look: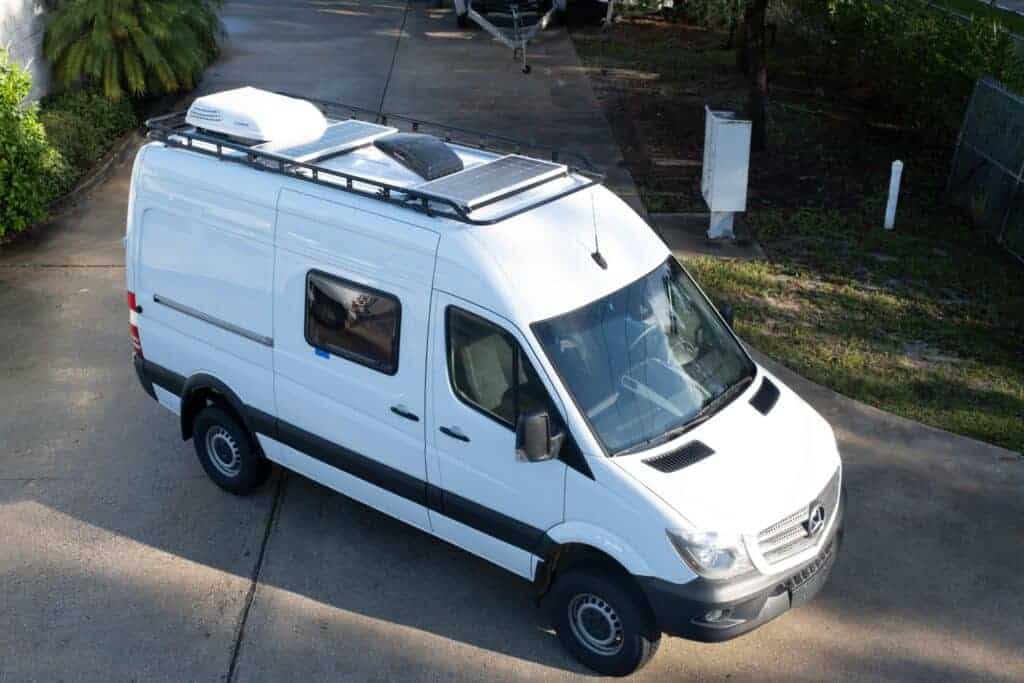 These roof racks are priced anywhere from $1540 – $2375 depending on the size and extra features. Shipping is currently unavailable and would need to be picked up directly from, or just have them install it for you at Van Go Outdoors in Florida.
You can find more info, pricing, and contact info about the Van Go Outdoors roof racks here: https://store.freedomvango.com/collections/bumpers-racks-light-mounts-and-more/products/roof-rack-by-freedomvango
Aluminess Modular Sprinter Roof Rack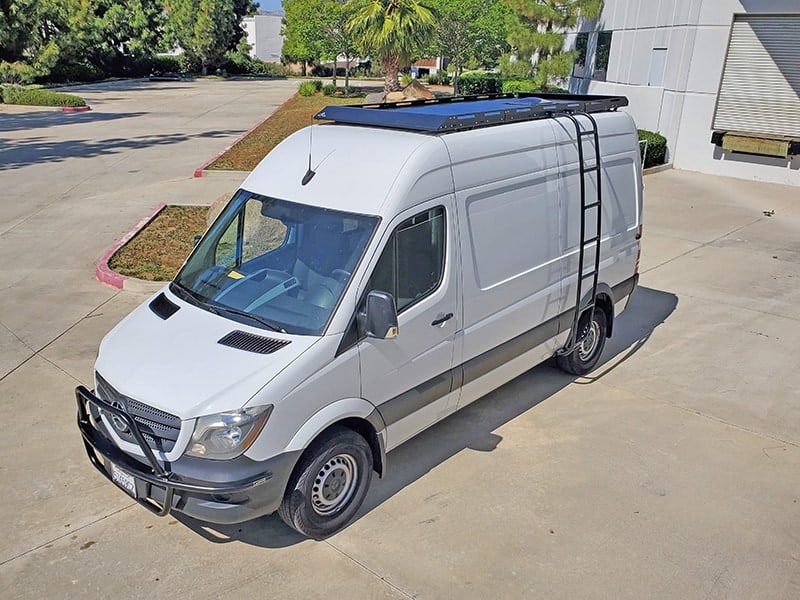 This roof rack has many different configurations and can be incredibly modular in terms of openings to allow for roof vents, air conditioners and such. It's a bit hard to put into words, so, fortunately, they have a video to show how this roof rack sets itself apart from
Aluminess roof racks are extremely popular in the Sprinter Camper Conversion community. They got their start making custom roof racks, but now have an option for a more modular, off-the-shelf type of roof rack.
These Aluminess modular roof racks are $2,795 – $3,700 depending on the length of your van and includes shipping.
For more info, specs, details, and to find out about production/lead time; visit: https://www.aluminess.com/mercedes-sprinter-modular-roof-rack/
Aluminess Custom Sprinter Roof Rack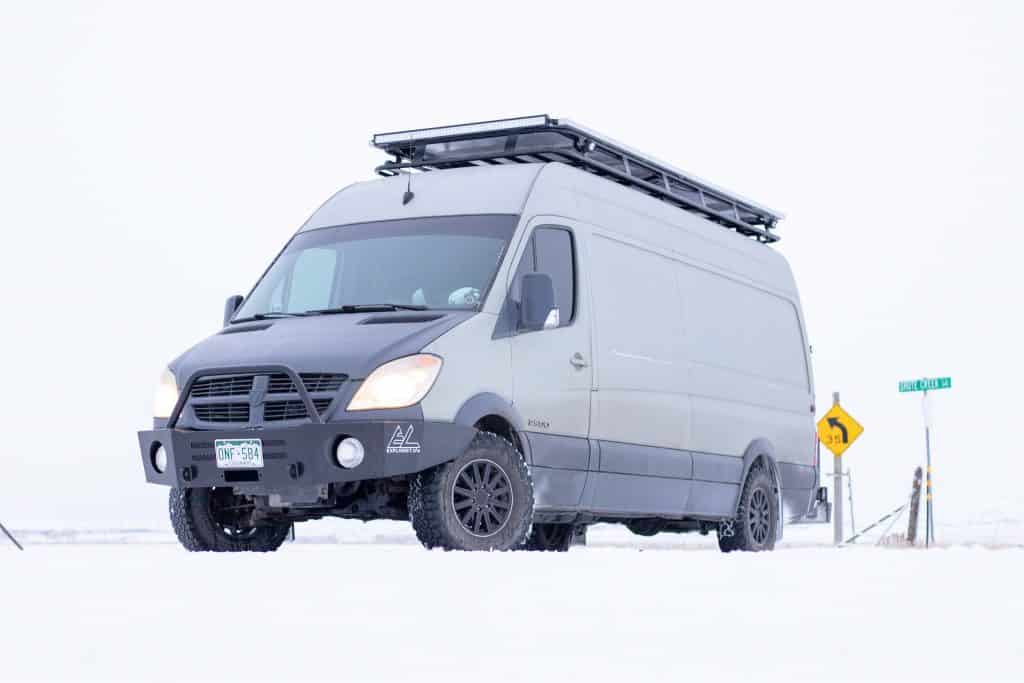 Aluminess is based just outside of San Diego CA is one of the more commonly used roof racks on Sprinter camper van conversions. They use lightweight Aluminum for their roof rack builds and are HIGHLY custom in nature.
If you have roof vent fans or an air conditioner you are needing to work around; Aluminess will custom cut-out the openings to fit your needs.
Aluminess finishes the 'floor' of their roof rack with a few different methods but slats and perforated aluminum sheet are the two most popular.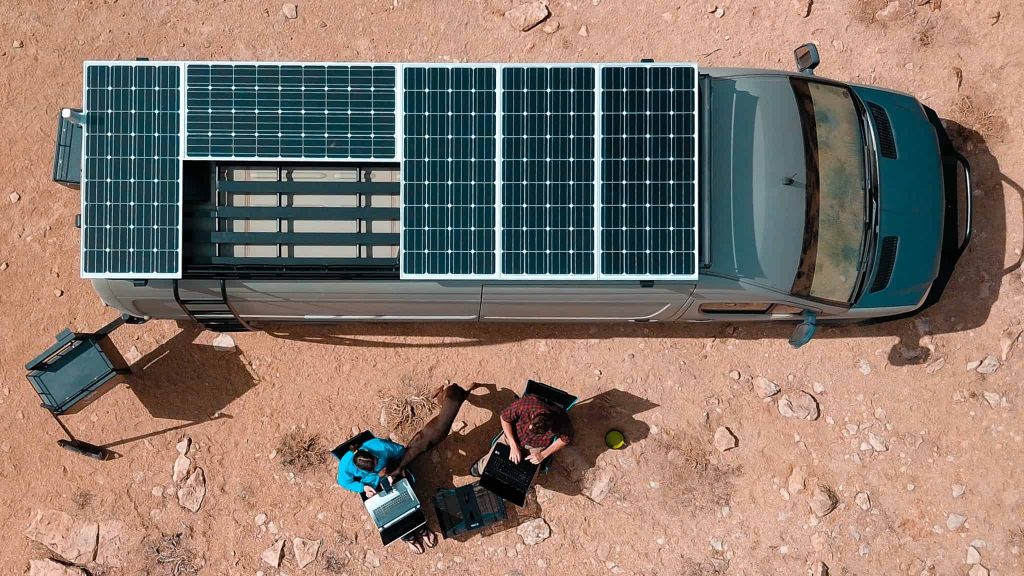 The highly custom nature of these racks definitely means you should contact them ahead of time before you purchase to make sure everyone is on the same page (and check to see how long production will take and shipping will cost).
These roof racks cost anywhere from $2,700 – $3,800+ plus shipping. Shipping costs can vary GREATLY (anywhere from $300 to $1,000) depending on your location. Production times also vary greatly; anywhere from a few weeks to as much as 6 months. You can find more pictures, contact info, prices, and more info about the custom sprinter roof racks from Aluminess here: https://www.aluminess.com/sprinter-roof-rack-build/
Roambuilt Custom Sprinter Roof Rack
Roambuilt roof racks are another highly custom roof rack fabricator. When purchasing any of their racks you will be required to take measurements of openings for roof vents or air conditioners so they can make the necessary adjustment of the roof rack.
They have eight different roof rack configurations available and range in price from $3,900 – $10,000 plus shipping. Their lead time is anywhere from a few days up to eight weeks. For more info, pictures, and contact information visit: https://roambuilt.com/collections/all/roof-racks