MC4 Connectors are incredibly common on solar panels. Generally, on most solar panels, there are two wires coming off the back of the panel and terminating with a male and female MC4 connector. In order to extend these wires to reach your charge controller, you'll need to learn how to crimp MC4 connectors to make solar panel extension wires and this blog post will teach you how to do that.
What is an MC4 Connector?
An MC4 connector is a waterproof, UV resistant, quick-connect (and disconnect) connector that can generally handle a max of 20A and 600V.
How to Crimp an MC4 Connector (Video)
Tools Required for crimping MC4 Connectors
Parts of an MC4 Connector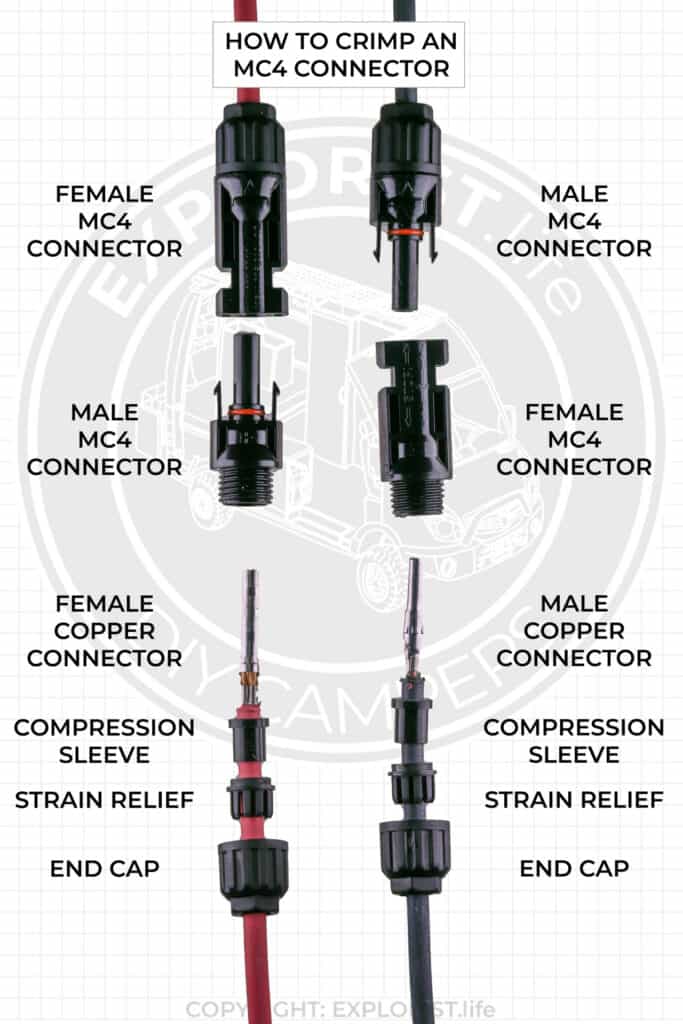 MC4 Connector – Positive vs negative
It's important to understand that on opposite ends of a wire, there will be a male AND a female connector. Male on one end of the wire, female on the other end. Pay attention to which is which and don't think "I always put male connectors on positive wires" because that would be incorrect. Think of this like: "I am needing to connect to this 'male' connector so I need to make a female mc4 connector here." (It's worth buying a few extra MC4 connectors because it's highly likely you'll mess this up a time or two.)