This DIY camper solar wiring diagram and parts list is perfect for ground-up electrical installs into campervans, skoolies, or expedition vehicles. This system is most suitable for systems that do not have a pre-existing house electrical system installed.
This diagram features:
2000W Inverter Charger
200+ Amp Hours of Battery Storage Capacity
Up to 520W Solar Array Capacity
Alternator Charging at 60A
Shore Power Charging/Passthrough
Not quite what you are looking for? Check out other system setups here: https://www.explorist.life/solarwiringdiagrams
Note from Nate: It's no secret that Battle Born Batteries and Victron Energy are sponsors of the work I do here at EXPLORIST.life. Both of those brands make top of the line, high-end equipment and in my opinion, is worth every penny.

BUT… I have seen time and time again people trying to design systems with less expensive equipment to fit within their budgets (rightfully so. I get that.) but struggle with budget-friendly system design including proper fusing, wire sizes, fuse choices, busbars, component placement, switches, and everything else necessary to build a high-end system. This is why I've made this diagram.

This diagram features high-quality fuses, busbars, wires, and lugs with highly efficient wire routing & system design with decreased redundancies that will accommodate most of the popular and less expensive Inverter/Chargers and other components I see people using like Renogy and AIMS.

This is the Honda Civic of camper electrical systems. It won't win any high-performance races, but it will get you from point A to point B in a safe and reliable manner.
History of Changes to this Page (Click to Expand)

Post Published Jan 8, 2021
TABLE OF CONTENTS
HOW TO USE THIS PAGE – VIDEO
This orientation video will show you how to best use this page to build your DIY Camper Solar Setup. It's a quick watch but I think it's pretty important.
DIY Camper Van Wiring Diagram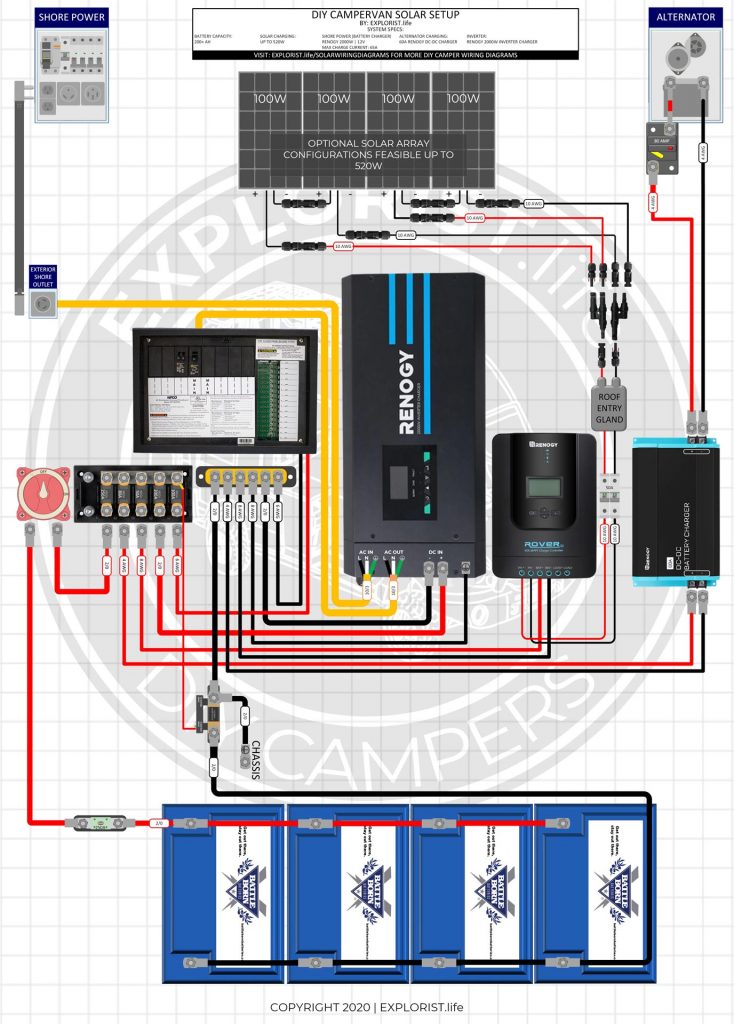 DIY Camper Solar Parts – Shopping List
The list below is a consolidated parts list for this entire system (Minus the solar charging leg, which is listed at the bottom of this blog post).
For the 'Quantities' in the below shopping list, each singular component is listed a quanty per each, wire is listed a quantity of feet, and heat shrink is listed as qty 1 = 2.25″.
For Example:
Qty 1 – Inverter Charger means you need to purchase 1 Inverter Charger
Qty 3 – 4/0 Wire means you need 3 feet of 4/0 wire. This may mean you need to buy 5ft from the product page
Qty 5 heat shrink means you need 5 pieces of 2.25″ heat shrink. This means you'll need 5 x 2.25″ pieces of heat shrink for a total of 11.25″ of heat shrink.
| Product | Qty | Link |
| --- | --- | --- |
| 1/2" Black Heat Shrink | 9 | |
| 1/2" Red Heat Shrink | 14 | |
| 1/4" Black Heat Shrink | 13 | |
| 1/4" Red Heat Shrink | 6 | |
| 10 AWG Black Wire | 6 | |
| 10 AWG Ferrule | 12 | |
| 10 AWG Red Wire | 10 | |
| 100 Amp MEGA Fuse | 1 | |
| 100Ah Battle Born Lithium Batteries | 4 | |
| 100W Rich Solar Panels | 4 | |
| 16 AWG Red Wire | 20 | |
| 2-to-1 MC4 Combiner | 1 | |
| 2/0 Black Wire | 20 | |
| 2/0 Red Wire | 15 | |
| 2/0 x 3/8" Wire Lug | 4 | |
| 2/0 x 5/16" Wire Lug | 24 | |
| 200 Amp MEGA Fuse | 1 | |
| 2000W Renogy Inverter/Charger | 1 | |
| 250 Amp ANL Fuse | 1 | |
| 3/4" Black Heat Shrink | 14 | |
| 3/4" Red Heat Shrink | 14 | |
| 30A Shore Power Surge Protector | 1 | |
| 30A Square D HOM AC Breaker | 1 | |
| 4 AWG Black Wire | 25 | |
| 4 AWG Red Wire | 25 | |
| 4 AWG x 1/4" Wire Lug | 2 | |
| 4 AWG x 5/16" Wire Lug | 8 | |
| 40A Renogy Rover Solar Charge Controller | 1 | |
| 6 AWG Black Wire | 10 | |
| 6 AWG Ferrule | 2 | |
| 6 AWG Red Wire | 10 | |
| 6 AWG x 5/16" Wire Lug | 2 | |
| 6 Post Busbar | 1 | |
| 60A Mega Fuse | 1 | |
| 8 AWG Black Wire | 11 | |
| 8 AWG Ferrule | 1 | |
| 8 AWG Red Wire | 10 | |
| 8 AWG x 5/16" Wire Lug | 1 | |
| 80A DC Breaker | 1 | |
| 80A Mega Fuse | 1 | |
| Add-A-Fuse Kit | 1 | |
| ANL Fuse Holder | 1 | |
| Din Rail Breaker Box | 1 | |
| Master Disconnect | 1 | |
| MC4 Connectors | 5 | |
| Renogy 60A DC-DC Charger | 1 | |
| Victron Fused Busbar | 1 | |
| Victron SmartShunt | 1 | |
| WFCO AC-DC Distribution Panel | 1 | |
| | | #N/A |
| | | #N/A |
| | | #N/A |
| | | #N/A |
Camper Solar Parts Detail
The section below will tell you where each of the parts from above fits into the wiring diagram. This is quite lengthy, but if you are having trouble seeing the diagram or just want more clarification that the diagram above doesn't deliver, hopefully this will help:
| Column A | Column B | Column C |
| --- | --- | --- |
| Battery Bank Wiring | | |
| This section contains all of the parts necessary to wire the battery bank together. These products include the batteries as well as the related wiring parts that you will need to make the battery to battery connections. | | |
| Product | Qty | Link |
| 100Ah Battle Born Lithium Batteries | 4 | |
| 2/0 Red Wire | 5 | |
| 2/0 Black Wire | 5 | |
| 2/0 x 5/16" Wire Lug | 12 | |
| 3/4" Red Heat Shrink | 6 | |
| 3/4" Black Heat Shrink | 6 | |
| | | |
| Alternative Battery Choices | | |
| If you wish to use batteries other than the 100Ah Battle Born Lithium Batteries listed above, the following batteries can be substituted in place with no additional changes to the wiring diagram or parts list (Battery Bank Wiring section has enough lugs wire & heat shrink for up to 4 individual batteries). Note: At least 200Ah of batteries must be used to support a 2000w Inverter. Please consider battery warranties, customer service, and user reviews when choosing a battery from below. EXPLORIST.life does not necessarily endorse the battery brands below but is simply showing examples of optional batteries that will work in the diagram featured on this page. | | |
| 100Ah Renogy Lithium Batteries | | |
| 170Ah Renogy Lithium Batteries | | |
| 100Ah Renogy AGM Batteries | | |
| 200Ah Renogy AGM Batteries | | |
| 200Ah Aims Lithium Batteries | | |
| 100Ah ExpertPower Lithium Batteries | | |
| 200Ah ExpertPower Lithium Batteries | | |
| 100Ah Weize Lithium Batteries | | |
| Battery Bank to Busbars | | |
| This section contains all of the parts necessary to wire the battery bank to the main DC distribution busbar. The busbar itself as well as the shunt for the battery monitor and fuse mounted inside to the busbar protecting the positive wire from overcurrent can be found in this section. The busbar is essentially an extension of the battery terminals and allows you to deliver power where it needs to go and houses the fuses necessary to protect the wires leaving the busbar. The Battery monitor allows you to know how full your batteries are, know how much power you are actively gaining or losing, and see the historical data of your power usage. | | |
| Product | Qty | Link |
| Victron Fused Busbar | 1 | |
| 6 Post Busbar | 1 | |
| Victron SmartShunt | 1 | |
| 2/0 Red Wire | 5 | |
| 2/0 Black Wire | 5 | |
| 2/0 x 5/16" Wire Lug | 6 | |
| 2/0 x 3/8" Wire Lug | 4 | |
| 3/4" Red Heat Shrink | 6 | |
| 3/4" Black Heat Shrink | 4 | |
| 250 Amp ANL Fuse | 1 | |
| ANL Fuse Holder | 1 | |
| Master Disconnect | 1 | |
| | | |
| Busbar to Inverter/Charger | | |
| This section contains the Inverter Charger and all of the parts necessary to wire the Inverter Charger to the Positive and Negative busbars. The Inverter Charger allows you to re-charge your batteries from 'shore power' and also converts the 12v DC power stored in your batteries to 120V AC power like you'd find in your standard household wall outlet. | | |
| Product | Qty | Link |
| 2000W Renogy Inverter/Charger | 1 | |
| 2/0 Red Wire | 5 | |
| 2/0 Black Wire | 5 | |
| 8 AWG Black Wire | 5 | |
| 2/0 x 5/16" Wire Lug | 4 | |
| 8 AWG x 5/16" Wire Lug | 1 | |
| 8 AWG Ferrule | 1 | |
| 3/4" Red Heat Shrink | 2 | |
| 3/4" Black Heat Shrink | 2 | |
| 1/2" Black Heat Shrink | 2 | |
| 200 Amp MEGA Fuse | 1 | |
| | | |
| Alternative Inverter/Charger Choices | | |
| If you wish to use an Inverter/Charger other than the 2000W Renogy Inverter/Charger listed above, the following batteries can be substituted in place with no additional changes to the wiring diagram or parts list. Note: At least 200Ah of batteries must be used to support a 2000w Inverter. | | |
| 2000W AIMS Inverter/Charger | 1 | |
| 2000W Kisae Inverter/Charger | 1 | |
| | | |
| Busbar to B2B Charger | | |
| This section contains the battery to battery charger as well as the wiring that you need to connect the battery to battery charger to the positive and negative busbars. This will allow you to charge your house battery bank from the engine alternator. | | |
| Product | Qty | Link |
| Renogy 60A DC-DC Charger | 1 | |
| 4 AWG Red Wire | 5 | |
| 4 AWG Black Wire | 5 | |
| 4 AWG x 5/16" Wire Lug | 4 | |
| 1/2" Red Heat Shrink | 2 | |
| 1/2" Black Heat Shrink | 2 | |
| 80A Mega Fuse | 1 | |
| | | |
| B2B Charger to Alternator | | |
| This section contains all of the wiring necessary to connect the battery to battery charger to the starting battery. This will allow you to charge your house battery bank from the engine alternator. | | |
| Product | Qty | Link |
| 4 AWG Red Wire | 20 | |
| 4 AWG Black Wire | 20 | |
| 4 AWG x 5/16" Wire Lug | 4 | |
| 4 AWG x 1/4" Wire Lug | 2 | |
| 1/2" Red Heat Shrink | 4 | |
| 1/2" Black Heat Shrink | 2 | |
| 80A DC Breaker | 1 | |
| 16 AWG Red Wire | 20 | |
| Add-A-Fuse Kit | 1 | |
| | | |
| Busbar to DC Fuse Block | | |
| This section contains the DC fuse block (which is inside of the AC-DC distribution panel) as well as the wires to connect it to the main DC distribution busbars. This will allow you to deliver power to the DC Fuse block for small branch circuits such as lights, fans, usb outlets, etc.. | | |
| Product | Qty | Link |
| WFCO AC-DC Distribution Panel | 1 | |
| 6 AWG Red Wire | 10 | |
| 6 AWG Black Wire | 10 | |
| 6 AWG x 5/16" Wire Lug | 2 | |
| 6 AWG Ferrule | 2 | |
| 1/2" Red Heat Shrink | 2 | |
| 1/2" Black Heat Shrink | 2 | |
| 100 Amp MEGA Fuse | 1 | |
| | | |
| Busbar to Chassis Ground | | |
| This section includes the parts necessary to allow you to ground your negative busbar to the chassis ground. The chassis ground will be connected to the negative busbar on one side and the other side can go to a factory chassis ground or simply anywhere good metal to metal contact can be made between the wire lug and the bare metal of the body or frame of the camper. | | |
| Product | Qty | Link |
| 2/0 Black Wire | 5 | |
| 2/0 x 5/16" Wire Lug | 2 | |
| 3/4" Black Heat Shrink | 2 | |
| | | |
| Shore Power to Inverter/Charger | | |
| This section includes the exterior shore power outlet and shore power cord that allows you to plug your camper into shore power as well as all of the wiring that allows you to connect the exterior shore power cord to your inverter charger. This will allow you to not only use shore power for powering your devices but also allow you to charge your batteries from shore power. Note: 10/3 w/ ground wire you will find at your local hardware store will very likely have 4 wires in it, which is unnecessary. The link for 10 AWG Triplex Wire below has 3 wires inside, which is correct for the application. | | |
| Product | Qty | Link |
| 30A Shore Power Inlet | 1 | |
| 10 AWG Triplex Wire | 10 | |
| 10 AWG Ferrule | 6 | |
| 1/4" Black Heat Shrink | 6 | |
| 30A Shore Power Cord | 1 | |
| 30A Shore Power Surge Protector | 1 | |
| | | |
| Inverter Charger to AC Distribution | | |
| This section includes the wiring necessary to connect the inverter charger to the AC side of the AC-DC power distribution panel listed in an earlier section. A quick note... 6/3 stranded wire is used here because although our shore power is 30A max, which 10 gauge wire is adequate for, the PowerAssist function of the Victron Multiplus Inverter Charger can add up to 3000w of battery power to shore power in the event that more power than the shore power can provide is needed. This much power coming from the Inverter/Charger requires 6 gauge wire feeding a 50A main breaker in the AC distribution panel. Also... the 6/3 w/ ground wire you will find at your local hardware store will very likely have 4 wires in it, which is unnecessary. The link for 6 AWG Triplex Wire below has 3 wires inside, which is correct for the application. | | |
| Product | Qty | Link |
| 10 AWG Triplex Wire | 10 | |
| 10 AWG Ferrule | 6 | |
| 1/4" Black Heat Shrink | 6 | |
| 30A Square D HOM AC Breaker | 1 | |
| | | |
| Busbars to Solar Charge Controller | | |
| This section shows all of the parts necessary to build the solar array and connect it to the solar charge controller. Many different solar array options are available with this charge controller up to 520W. Other similarly sized charge controllers can also be used without changes to the wiring diagram. See the list at the bottom of this parts detail page for suitable alternate charge contollers if desired. | | |
| Product | Qty | Link |
| 40A Renogy Rover Solar Charge Controller | 1 | |
| 8 AWG Red Wire | 10 | |
| 8 AWG Black Wire | 6 | |
| 1/2" Red Heat Shrink | 6 | |
| 1/2" Black Heat Shrink | 1 | |
| 60A Mega Fuse | 1 | |
| | | |
| Solar Charge Controller to Solar Panels | | |
| This section shows all of the parts necessary to build the solar array and connect it to the solar charge controller. Many different solar array options are available with this charge controller up to 520W. Visit the following link to see other solar panel choices that may fit your needs: https://www.explorist.life/best-solar-panels-for-a-diy-camper-van/ If you need more personalized help planning your solar array for this diagram, consider joining the explorist.life private group: https://www.community.explorist.life | | |
| Product | Qty | Link |
| 100W Rich Solar Panels | 4 | |
| 10 AWG Red Wire | 10 | |
| 10 AWG Black Wire | 6 | |
| 1/4" Red Heat Shrink | 6 | |
| 1/4" Black Heat Shrink | 1 | |
| 2-to-1 MC4 Combiner | 1 | |
| MC4 Connectors | 5 | |
| Solar Disconnect Breaker | 1 | |
| Din Rail Breaker Box | 1 | |
Order of Operations for DIY Camper Solar Install
Coming soon